PA education: A recipe for hate and terror
Itamar Marcus and Nan Jacques Zilberdik
|
PMW Special Report
Palestinian Authority Education
A Recipe for Hate and Terror
PMW releasing report at 7th World Congress
of Education International for teachers
to counter resolutions calling for boycotting Israel
and supporting BDS
Palestinian Media Watch has prepared a comprehensive report on Palestinian Authority education. It includes chapters on names of schools (dozens named after terrorists), school activities (e.g., visiting homes of terrorists), statements and activities of educators (e.g., presenting murderers as role models and promising a world without Israel), schoolbooks, informal education (children reciting poems on kids' TV programs: e.g., Jews are monkeys and pigs; Tel Aviv is "occupied Palestine"), and a chapter with examples of honoring Hitler.
The report was prepared for and will be presented today at the 7th World Congress of Education International (EI), the international organization of teachers' unions, which is meeting this week in Ottawa, Canada. PMW was invited by the Association of Secondary School Teachers in Israel, after the association was notified that the congress, which brings together nearly 2,000 teachers and educators from all over the world, is planning to vote on several anti-Israel resolutions that include calls for boycott of Israel and support for BDS.
PMW has prepared this report documenting that hate, Antisemitism and honoring of murderers are fundamental elements of PA education, and showing the PA's central role in undermining peace. When then Sen. Hillary Clinton joined PMW to release PMW's report on PA schoolbooks in 2007, she said the PA education "profoundly poisons the minds of these children" and called some aspects of PA messaging "child abuse." This report documents that nothing has changed since then. The PA continues to poison the minds of its children.
This special report, entitled "Palestinian Authority Education: A Recipe for Hate and Terror," illuminates one of the greatest obstacles to peace today and reveals why there won't be peace in the next generation unless this PA education process is immediately reversed.
Click to view the report in PDF
The following is the introduction to the report:
Palestinian Authority Education
A Recipe for Hate and Terror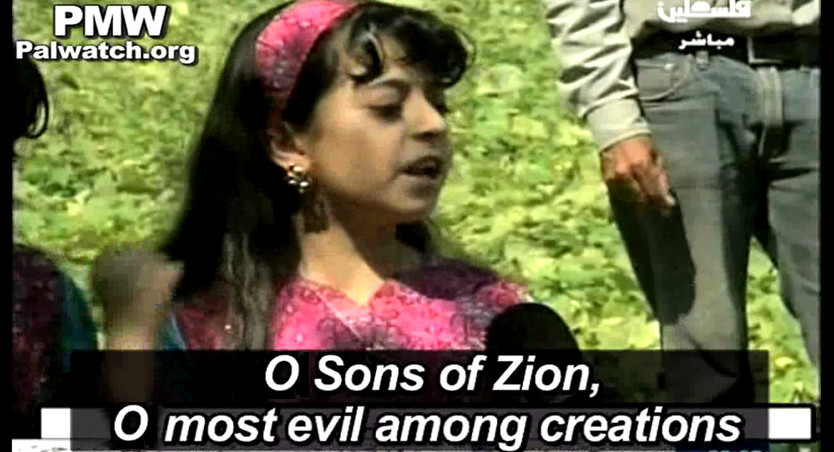 [Official Palestinian Authority TV, July 3, 2013]
By Itamar Marcus, Nan Jacques Zilberdik and Alona Burger
Introduction
"No one is born hating another person because of the color of his skin,
or his background, or his religion. People must learn to hate,
and if they can learn to hate, they can be taught to love,
for love comes more naturally to the human heart than its opposite."
[Nelson Mandela, Long Walk to Freedom, Autobiography (1994)]
Peace begins with education. Palestinian Media Watch has researched the Palestinian Authority's education to determine to what extent peace is promoted by the structures the PA controls and/or funds. This report reviews the names of Palestinian schools, school activities, and examines public statements by educators and Ministry of Education officials. The report likewise evaluates to what extent PA schoolbooks, educational TV, and a PA-funded children's magazine promote or undermine peace.
Tragically, the Palestinian Authority under the leadership of Mahmoud Abbas is doing exactly what Mandela warned against: The PA is teaching its children to hate. The PA and the politically dominant Fatah movement that is also headed by Abbas, teach Palestinian children through their official communication structures that Jews and Israelis possess inherently evil character traits. Fighting them is therefore said to be heroic and even Allah's will. Terrorists who have murdered dozens of Israeli civilians are said to be national heroes and Islamic Martyrs.
Common PA hate messages include:
Israel has no right to exist
Israel will disappear and be replaced by "Palestine"
Violence - "armed struggle" - is legitimate to fight Israel
Muslims must fight an eternal Islamic war against Israel
Killers of Israelis are heroes and role models
Martyrdom-death for Allah is the utmost honor
Children recited poems on official PA TV children's educational programs in recent years with the following messages:
Jews are "monkeys and pigs"
Jews are "enemies of Allah"
Jews are "most evil of creations"
Zion is "Satan with a tail"

When children repeat these hate messages they are not corrected by the moderators of the children's programs, instead TV hosts often give them prominence and even applaud them. When a boy told a PA TV news reporter that he had learned in school to "fight the Jews and kill them" his statement was included in the PA TV evening new report without comment or contradiction. (See Chapter 4.)
Hitler has been honored by some Palestinian schools and a PA-funded educational magazine, and the PA has named dozens of schools after terrorist murderers of civilians and one school was named after a Nazi collaborator and war criminal responsible for the deaths of thousands of civilians.
While all this hatred is being imbedded in the minds of Palestinian children, peacebuilding contacts between Israeli and Palestinian youth are prohibited by the PA. These person to person contacts between the youth are condemned as "normalization" and the head of the PA's Council for Sport and Youth Affairs actually denounced a successful peacebuilding event as "a crime against humanity."
Tragically, Palestinian children are exposed to all of these messages, not from Hamas or fringe groups, but from official PA sources. This report documents this world of hate orchestrated by the Palestinian Authority through the educational structures under its direct control.
It is the hope of the authors, that this report will generate discussion and introspection on the part of the Palestinian Authority, which will lead to a change of direction and the creation of peace promoting educational frameworks.
Click to view the report in PDF