Fatah cartoon: Palestinian child burned by menorah symbolizing Israel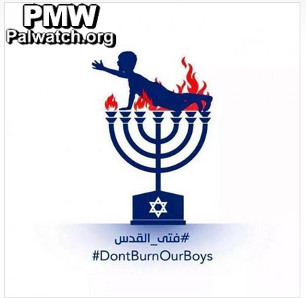 Headline: "Burning of children with the menorah (i.e., Jewish candelabra) of the Jewish State"
Image shows a boy being burnt in the flames of a lit menorah, referring to the death of the infant Ali Dawabsheh, killed in an arson attack in the village of Duma on July 31, 2015. (See below)

Text below image:
"#Children_of_Jerusalem" (in Arabic)
"#Dont BurnOurBoys" (in English)

Note: Duma arson attack - On July 31, 2015, two Palestinian houses in the West Bank village of Duma were set afire by Molotov cocktails thrown through their windows. 18-month-old Ali Dawabsheh was killed in this attack, his father, Saad Dawabsheh, died of injuries 8 days later, and his mother, Reham Dawabsheh, died of injuries 5 weeks later. Israeli leaders and citizens from all sectors of society condemned this attack, and Israeli Prime Minister Benjamin Netanyahu told PA Chairman Mahmoud Abbas that all Israelis were disgusted by the crime, adding, "We will not countenance terrorism of any kind." He ordered the security forces "to use all means at their disposal to apprehend the murderers and bring them to justice forthwith."
There is suspicion that this was a nationalist attack carried out by Jewish extremists in revenge for Palestinian terror attacks. However, the crime remains unsolved with no named suspects.