Abbas grants prize to family of terrorist who killed shot 2 Israelis, calls family of terrorist stabber to console them
Headline:
"The President awarded the Jerusalem Prize to Mustafa Abu Leil and his family"
"President Mahmoud Abbas awarded the Jerusalem Prize to the fighter Mustafa Abu Leil 'Abu Mahyoub', to his wife, the fighter Um Mahyoub, and to his entire family. This took place during the reception the president held for the fighter Abu Al-Leil and his family in the presidential headquarters in Ramallah.
The president awarded the Jerusalem Prize to the Abu Al-Leil family as a token of appreciation for this resolute family, which has made enormous sacrifices of Martyrs (
Shahids
) and prisoners on the path of struggle, and in appreciation of its persistence and giving so that our nation will achieve liberty and independence. It will be noted that the Abu Al-Leil family from the Balata refugee camp sacrificed five Martyrs from among its sons… in addition to the prisoner Hussein Abu Al-Leil, sentenced to five life sentences, and a number of released prisoners and wounded.
In addition, last night [Aug. 19, 2015] the president called Bassem Abu Amsheh Al-Atrash, father of the Martyr Muhammad Al-Atrash, who died as a Martyr from the occupation's shooting at the Tapuach junction, south of Nablus, three days ago [Aug. 17, 2015]. During the conversation the president expressed his warm condolences to the Martyr's family, and asked that Allah wrap him in his full mercy, and shelter him in his most spacious garden, next to the righteous and the Martyrs."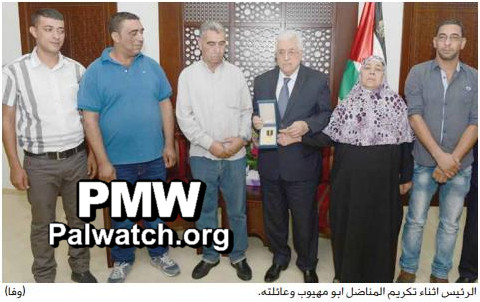 Hussein Abu Al-Leil, a member of the Al-Aqsa Martyrs' Brigades, was sentenced to five accumulative life sentences for carrying out a shooting attack in April 2003 at the Beka'ot military camp in which two soldiers were killed: Ofer Sharavi and Itamar Lifshitz, and an additional eight were injured.
Four other members of the Abu Al-Leil family were also killed as "Martyrs" in unknown circumstances.

Muhammad Al-Atrash attempted to stab an Israeli border police officer at the Tapuach junction in the West Bank on Aug. 17, 2015. He was shot and killed by another police officer at the scene.