Fatah official honors terrorist stabbers, one of whom killed 2, as "Martyrs" and "moons above the foreheads of the free men"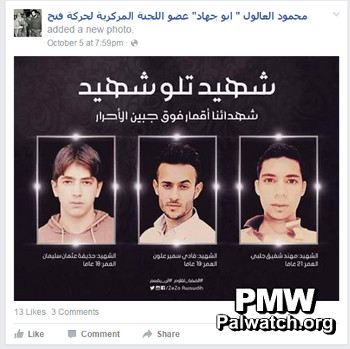 Text and image published on Fatah Central Committee member Mahmoud Al-Aloul's Facebook page
"Martyr (
Shahid
) after Martyr
Our Martyrs are moons above the foreheads of the free men
[From right to left:]
Martyr Muhannad Shafiq Halabi
Age: 21
Martyr Fadi Samir Alloun
Age:19
Martyr Hudhaifa Othman Suleiman
Age: 18"
Muhannad Halabi killed 2 Israelis, Rabbi Nehemiah Lavi and Aharon Bennett, and injured Bennett's wife, Adele, and their 2-year-old son in a stabbing attack in the Old City of Jerusalem on Oct. 3, 2015. Following the attack, he was shot and killed by Israeli security forces. Prior to his attack, in a post to his private Facebook page, the terrorist referred to recent terror attacks as part of a "third Intifada," and said that it was a response to Israel's actions at the Al-Aqsa Mosque and that the Palestinian people would not "succumb to humiliation." This is a reference to the PA libel that Israel is plotting to take over and destroy the Al-Aqsa Mosque and to the PA's portrayal of Jews praying on the Temple Mount as "an invasion of the Al-Aqsa Mosque"

Fadi Alloun stabbed and injured Israeli citizen Moshe Malka (15) near the Old City in Jerusalem on Oct. 3, 2015. He fled and was shot dead by Israeli police.

Hudhaifa Suleiman was killed on Oct. 4, 2015 in confrontations between rioting Palestinians near Tulkarem and the Israeli army. An Israeli investigation is being conducted following the incident (as of Oct. 8, 2015).