PA daily cartoon glorifies terrorist "Martyrs" in Heaven whose homes were demolished by Israel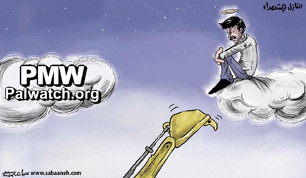 Cartoon published in official PA daily
Al-Hayat Al-Jadida
on Oct. 11, 2015

Cartoon shows a "Martyr" sitting on a cloud with a halo over his head. The cartoon shows that even when Israel destroy homes of the "Martyrs" it does not affect them because the Martyrs' homes are in Heaven. The cartoon appeared on the backdrop of the destruction of the homes of the terrorists Mutaz Hijazi, Ghassan Abu Jamal, and Muhammad Jaabis.
Mutaz Hijazi – Islamic Jihad member and released prisoner from Jerusalem who attempted to assassinate Rabbi Yehuda Glick, a prominent activist working to assure rights for Jews to visit and pray on the Temple Mount, on Oct. 29, 2014. The assassination attempt took place following a conference on establishing times and places for Jews to pray on the Temple Mount. Glick was seriously wounded in the attack; Hijazi was killed soon afterwards when he opened fire on an Israeli police force that was attempting to arrest him.

Jerusalem synagogue terror attack – On Nov. 18, 2014, two Arab terrorists,
Ghassan and Uday Abu Jamal from East Jerusalem, entered a synagogue in
Jerusalem and attacked worshippers with guns, knives and axes, killing 4 worshippers and a police officer. 7 people were injured, 3 of them seriously. The terrorists were killed in an exchange of fire with Israeli Security Forces that arrived on the scene.

Muhammad Jaabis carried out a terror attack in Jerusalem on Aug. 4, 2014, when he deliberately ran over and killed Avraham Walles with an excavator and injured 5 others when he flipped over a bus. Jaabis was shot and killed on the scene.