UNRWA school in Gaza encourages death through Martyrdom: "Our blood and souls are for you, Al-Aqsa Mosque"
Text and images posted on "Elementary School A for Refugees – Gaza" Facebook page on Oct. 20, 2015, accessed March 7, 2016. The first image shows that the UNRWA logo is the profile picture of the page (on March 7, 2016). The page later removed the UNRWA logo and closed or blocked the page.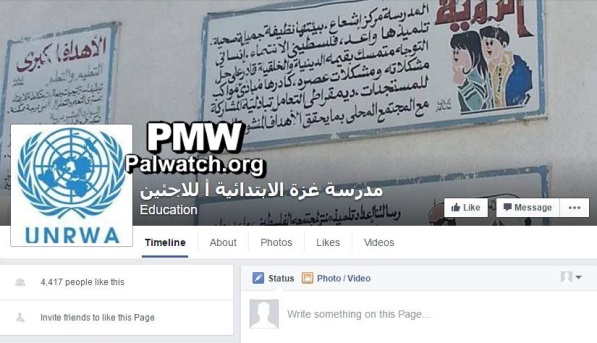 On Oct. 20, 2015 (a few weeks after the outbreak of the current wave of Palestinian terror attacks against Israelis that began on the Jewish New Year – Sept. 13, 2015 - with a stoning attack in which Israeli civilian Alexander Levlovich was killed), the UNRWA Elementary School A for Refugees posted pictures of an activity for Jerusalem that took place in the school: The pictures have since then been removed from Facebook.
Text on girl's sign: "[We are] masters and not slaves, every day a Martyr (Shahid) is born to us"
Text on girl's sign: "If the Jews are wind, the revolution is a storm"
Text on sign on right: "We will live as soaring hawks and we will die as proud lions. We are all Jerusalem and we are all Palestine."

Text on sign on left: "How will there be light if our blood will not be the fuel? And how will we restore the Al-Aqsa Mosque, if we will not be soldiers?"

Text on boy's sign: "Jerusalem is our glory and our honor. Let us sacrifice our souls and all that is dear to us for it"
Text on boys' sign: "My soul is for you, Al-Aqsa Mosque. Jerusalem is in the hearts. The Al-Aqsa Mosque is in danger. Everyone come out to Jerusalem's aid! Together we will free Jerusalem and help it."
Text on girl's sign: "Jerusalem is in our sights. We can perish, as long as it [Jerusalem] is not humiliated."
Text on girls' sign: "At your command, Al-Aqsa Mosque! Our blood and souls are for you, Al-Aqsa Mosque."
Text in album's main picture: "As part of the activities of 'For your sake Jerusalem' week"