Fatah Facebook depicts Netanyahu and Israel as ISIS terrorists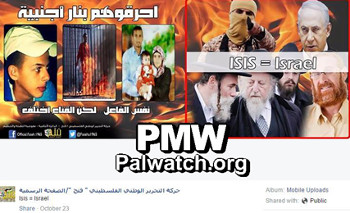 The photos on the left show Muhammad Abu Khdeir, who was killed three extremist Jews, Jordanian pilot Moaz Al-Kasasbeh, who was captured by ISIS in Syria and burned alive in a cage, and the Dawabsheh family of whom three were killed in a fire suspected to have been started by extremist Jews who threw Molotov cocktails through the windows of their home. The photos on the right are the "murderers": an ISIS terrorist, Israeli Prime Minister Benjamin Netanyahu, Rabbi Yehuda Glick, and some ultra-orthodox Jews.
Text on photo:
On left side of page:
"They burned them with foreign fire; the same perpetrator, but different mask"
On right side of page
: "ISIS = Israel"
Duma arson attack - On July 31, 2015, two Palestinian houses in the West Bank village of Duma were set afire by Molotov cocktails thrown through their windows. 18-month-old Ali Dawabsheh was killed in this attack, his father, Saad Dawabsheh, died of injuries 8 days later, and his mother, Reham Dawabsheh, died of injuries 5 weeks later. Israeli leaders and citizens from all sectors of society condemned this attack, and Israeli Prime Minister Benjamin Netanyahu told PA Chairman Mahmoud Abbas that all Israelis were disgusted by the crime, adding, "We will not countenance terrorism of any kind." He ordered the security forces "to use all means at their disposal to apprehend the murderers and bring them to justice forthwith."
There is suspicion that this was a nationalist attack carried out by Jewish extremists in revenge for Palestinian terror attacks. However, the crime remains unsolved with no named suspects.

Muhammad Abu Khdeir - Palestinian teen kidnapped and murdered by Israeli extremists in Jerusalem on July 2, 2014, in revenge for the kidnapping and murder of Israeli teens Eyal Yifrach, Gilad Shaar and Naftali Frenkel in the West Bank on June 12. Following Abu Khdeir's murder, Palestinians took to the streets of East Jerusalem in violent and continuous protests. Prime Minister Benjamin Netanyahu and other Israeli ministers immediately condemned the revenge killing in the strongest terms. Israeli police arrested six Israeli suspects on July 6th; under interrogation, three of the suspects confessed to murdering Khdeir.

Rabbi Yehuda Glick is the Chairman of the Temple Mount Heritage Foundation that works to increase awareness of the central place the Temple Mount and the Temple hold in Jewish heritage through educational activities and by encouraging people to visit the Temple Mount. In addition, he is the coordinator of the LIBA initiative - The Jewish Freedom on the Temple Mount initiative whose goal is to obtain freedom and civil rights for Jews on the Temple Mount. On Oct. 29, 2014, Mutaz Hijazi, an Islamic Jihad member and released prisoner, attempted to assassinate Glick, who was seriously wounded in the attack.

Moaz Al-Kasasbeh - Jordanian fighter pilot whose plane crashed in northern Syria during a military operation targeting Islamic State. Kasasbeh was captured by IS militants and brutally executed on Jan. 3, 2015. Islamic State released footage of the execution on Feb. 3, 2015, showing Kasasbeh being burned alive in a cage.