Fatah's youth movement holds vigil glorifying "hero" terrorist and supporting intifada, condemns Israeli "policy of execution in cold blood"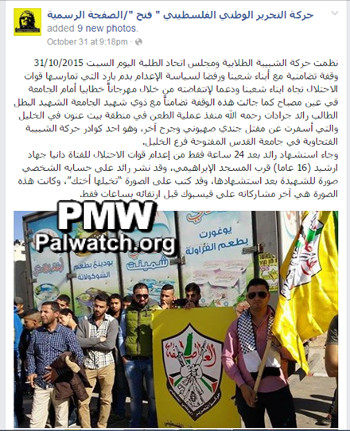 Photo and text posted on the official Facebook page of the Fatah Movement on Oct. 31, 2015
Photo shows Palestinians affiliated with the Shabiba Fatah student movement holding a vigil of solidarity with their people and terrorist Raed Jaradat's family, and supporting Palestinian intifada, next to the university in Ayn Misbah.
Text:
"[Fatah's] Shabiba student movement and the student union council organized today, Saturday Oct. 31, 2015, a vigil of solidarity with our people, to mark opposition to the [Israeli] policy of execution in cold blood being carried out by the occupation forces against our people, and in support of their intifada, through a rally of speeches which took place next to the university in Ayn Misbah. Likewise, this vigil was held to show solidarity with the relatives of the university's Martyr (
Shahid
), Martyr hero student Raed Jaradat, may Allah have mercy on him. Jaradat carried out a stabbing operation (i.e., terror attack) in the Beit Anoun area of Hebron, which caused the death of a Zionist soldier, and injury of an additional soldier, and was one of the members of the Fatah Shabiba movement in the Hebron branch of Al-Quds Open University. Raed died as a Martyr only 24 hours after the occupation forces executed the girl Dania Jihad Arshid, 16, next to the Ibrahimi Mosque (i.e., Cave of the Patriarchs). Raed posted a picture of the Martyr after her death as a Martyr on his [Facebook] page and wrote "Imagine if this was your sister." This picture was the last thing he shared on Facebook, a few hours before he rose [to Heaven]."
Raed Jaradat – a 22-year-old Palestinian terrorist who stabbed and critically wounded an Israeli soldier at the Beit Anoun junction near Hebron on Oct. 26, 2015. Jaradat was shot and killed at the scene.

Dania Arshid – 17-year-old Palestinian terrorist who when asked to identify herself at a military checkpoint near the Cave of the Patriarchs in Hebron on Oct. 25, 2015, refused and ran towards the Israeli border policemen with a drawn knife. She was shot and killed by them.