Hamas cartoon: US supports bloodthirsty Israel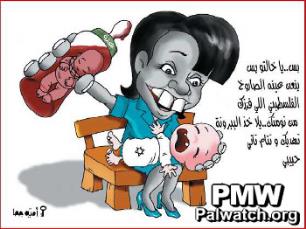 Cartoon depicting former US Secretary of State Condoleezza Rice holding a crying baby with a Star of David on its clothes. In her hand, she is holding a bottle with a dead baby in it floating in blood. The dead baby has a keffiyeh around its neck. Israel is depicted as the crying baby, frightened by rocket fire, that drinks the blood of Palestinian children. The US, as symbolized by Rice, is the mother that feeds Gaza's blood to a fretful Israel.

Text next to Rice: "Hush baby, hush. Damn that Palestinian rocket that has woken you. Have this bottle, and you will relax and go to sleep."
Text on bottle: "Gaza"