All of Israel is "Palestine" according to Abbas' National Security Forces and Governor of Ramallah
Itamar Marcus and Nan Jacques Zilberdik
|
All of Israel is "Palestine"
according to Abbas' National Security Forces and Governor of Ramallah


Itamar Marcus and Nan Jacques Zilberdik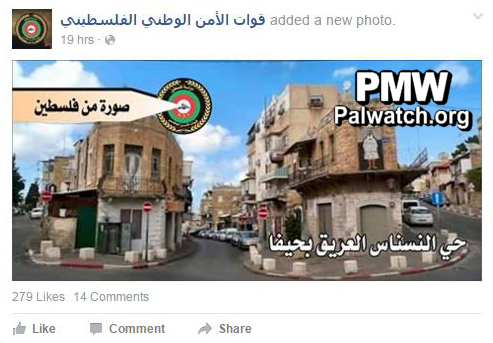 Following the Palestinian Authority policy of portraying all of Israel as "Palestine," two recent Facebook posts by the PA National Security Forces presented Israeli cities Haifa and Acre as "Palestine" and "occupied."

Posted text: "A photo from Palestine
The old Wadi Nisnas neighborhood of Haifa"
[Facebook page of the PA National Security Forces,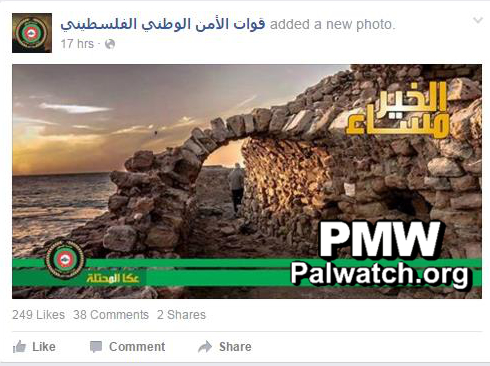 Posted text: "Good evening occupied Acre"
[Facebook page of the PA National Security Forces,
A few days ago, PA Chairman Abbas himself referred to all of Israel as an "
occupation
," and asked the UN Human Rights Council "how long this protracted Israeli occupation of our land [should] last?"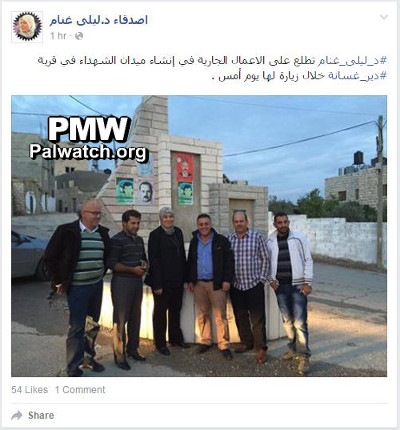 Recently, District Governor of Ramallah and El-Bireh Laila Ghannam posed next to such a sculpture of a map that includes both the PA areas and all of Israel, which is being set up in a village near Ramallah:
Posted text: "Dr. Laila Ghannam gets an update regarding the construction of Al-Shuhada Square (i.e., The Square of the Martyrs) in the village of Deir Ghasana (north-west of Ramallah) during a visit she made yesterday [Oct. 28, 2015]."
["Friends of Laila Ghannam" Facebook page,
PMW has reported extensively on
PA Governor Ghannam's ideologies
and messages to the Palestinian people. Ghannam has a well-documented policy of glorifying terrorists, and has continued doing so with the many terrorists who have killed and attempted to kill Israelis during the current wave of shooting and stabbing attacks. The day after terrorist Muhannad Halabi murdered two Israeli civilians, she described the morning as one "
fragranced by the blood of the Martyrs
... a morning of pride and honor."