Fatah cartoons: Israel behind Paris terror ‎attacks that killed 129
Itamar Marcus and Nan Jacques Zilberdik
|
Fatah cartoons: Israel behind Paris terror attacks
that killed 129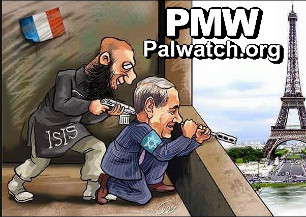 [Official Facebook page of the Fatah Movement, Nov. 16, 2015]
by Itamar Marcus and Nan Jacques Zilberdik
Today, Fatah posted two cartoons that reiterate the Palestinian libel that Israel is behind the Paris terror attacks that killed at least 129 people. One cartoon (above) shows Israeli Prime Minister Benjamin Netanyahu with an ISIS terrorist near the Eiffel Tower. Netanyahu is pictured helping the ISIS terrorist aim his machine gun. The other cartoon shows two matches in a matchbox labeled "Terrorism." The head of one match is shaped as an ISIS terrorist and the head of the second match is an orthodox Jew [Official Facebook page of the Fatah Movement, Nov. 16, 2015]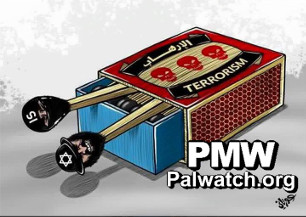 Palestinian Media Watch exposed yesterday that an op-ed in the official PA daily said that Israel's secret intelligence agency, the Mossad, was behind the attacks, and other PA - Fatah statements compared Israel to the Islamic State terror organization.
The PA and Fatah repeatedly compare Israel to ISIS, inventing a parallel between "the Jewish State" and "the Islamic State." The accusations that Israel and the US are behind ISIS terror attacks and benefit from them has also been voiced before.
Click to view other examples of PA conspiracy theories.