Fatah youth movement honors terrorists at ceremony with their relatives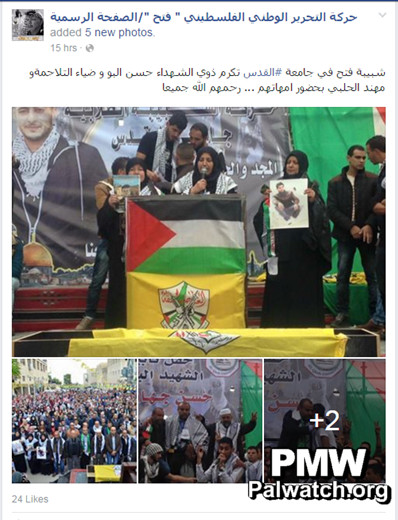 Text above picture:
"Fatah Shabiba at Al-Quds University honors the relatives of Martyrs Hassan Al-Baw, Diya Al-Talahmeh, and Muhannad Halabi in the presence of their mothers. May Allah have mercy on all of them."
The main photo shows terrorist murderer Muhannad Halabi's mother on the right, holding his picture.
Diya Al-Talahmeh
– 23-year-old Islamic Jihad terrorist who blew himself up while trying to throw a hand grenade at an Israeli army vehicle on Sept. 22, 2015. His body was discovered by Israeli forces in searches carried out after the explosion.

Muhannad Halabi - 19-year-old Palestinian terrorist who killed 2 Israelis, Rabbi Nehemiah Lavi and Aharon Bennett, and injured Bennett's wife, Adele, and their 2-year-old son in a stabbing attack in the Old City of Jerusalem on Oct. 3, 2015. Following the attack, he was shot and killed by Israeli security forces. Prior to his attack, in a post to his private Facebook page, the terrorist referred to recent terror attacks as part of a "third Intifada," and said that it was a response to Israel's actions at the Al-Aqsa Mosque and that the Palestinian people would not "succumb to humiliation." This is a reference to the PA libel that Israel is plotting to take over and destroy the Al-Aqsa Mosque and to the PA's portrayal of Jews praying on the Temple Mount as "an invasion of the Al-Aqsa Mosque."