PA daily publishes article about rock throwers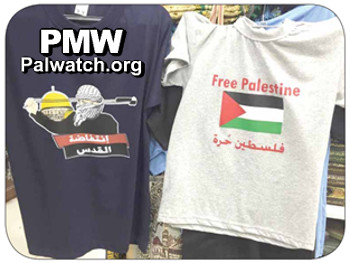 Headline:
"The
keffiyeh
– the Palestinian's helmet during confrontations"
"He wrapped the
keffiyeh
(Arab headdress) around his head, and he and his friends began to track the occupation soldiers' movements before the beginning of the confrontations, while other masked people gathered piles of rocks in order to save time and effort. After a few minutes, the resistance ceremonies began with the throwing of the first rock. The young men and women help each other wrap themselves in the
keffiyeh
in order to hide their faces, while others put their shirts on their heads, and use the neck opening as an opening for their eyes. They exchange looks and verify to each other with their heads that their faces are completely covered. Others wear shirts with national slogans, pictures of fighters, and Anonymous masks, in order to express their Palestinian identity. In confrontations breaking out in the Al-Balou' region of El-Bireh, one of the demonstrators said: 'The wrapping of the
keffiyeh
prepares you and gets you into the atmosphere of the confrontation.' Another added: 'The
keffiyeh
reminds us of the heroes who wore it, like Yasser Arafat, and encourages us to set out with a strong heart for conflict with the [Israeli] soldiers…' … Another demonstrator said while holding a slingshot: 'The idea behind the
keffiyeh
is not only to hide the face, but also to send a message to the occupation soldiers that we are Palestinians, and we are here to stay.' … Othman, one of the store owners who specializes in the sale of traditional clothes, including
keffiyehs
, said that 'the interest in keffiyehs has grown significantly, and we have reduced prices and made discounts, in order to encourage the citizens to buy them. This is in addition to interest in shirts with pictures or Palestinian national slogans, and citizens of all ages come to buy
keffiyehs
, especially the young.' Merchant Adnan Ma'ali emphasized that the interest in
keffiyehs
is very significant: 'The demand for keffiyehs has grown so much that we have had to supply larger amounts than usual.' … Once again the young people, through the wearing of the
keffiyeh
in the current popular uprising, have emphasized that it remains a symbol of the revolution, resistance, and the path of the Palestinian struggle."
Text on the shirt on the right:
"Free Palestine"
Text on the shirt on the left:
"Jerusalem Intifada"
Bottom pictures show young Palestinians preparing for confrontations with Israeli soldiers.