Fatah Twitter account glorifies "hero" female terrorist, "accompanies to her wedding in Heaven"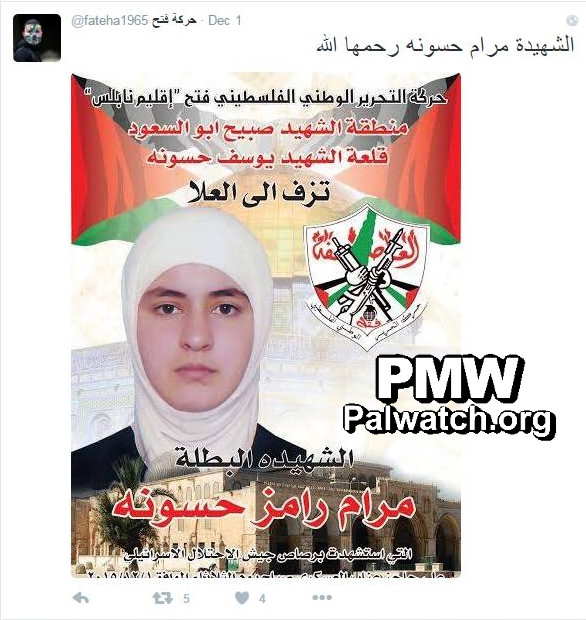 Picture and text posted on the official Fatah Twitter account. The image shows a picture of terrorist Maram Ramez Hassouneh, the Palestinian flag, and the Fatah logo.
Posted text:
"Martyr (
Shahid
) Maram Hassouneh, may Allah have mercy on her"
Text on picture:
"Martyr Yussuf Hassouneh sub-branch in the Martyr Sbeih Abu Al-Saud branch of the Fatah Movement's Nablus head branch accompanies to her wedding in Heaven (i.e., female Martyr's funeral is believed to be her wedding as she becomes one of the 72 Virgins who a Martyr marries in Paradise in Islam) the hero Martyr Maram Ramez Hassouneh, who died as a Martyr from gunfire of the Israeli occupation army at the Anab military checkpoint on Tuesday morning, Dec. 1, 2015."
Maram Ramez Hassouneh – 19-year-old Palestinian female terrorist who tried to stab an Israeli soldier on Dec. 1, 2015, at a checkpoint west of Nablus. During the stabbing attempt Hassouneh was shot and killed by the soldier she tried to attack. Two years earlier, on Nov. 30, 2013, Hassouneh attacked the same checkpoint by shooting fireworks at Israeli soldiers and then trying to stab them with a knife. She was arrested and released seven months later.