Abbas' Fatah honors "heroic" killer of "11 Zionists"
Itamar Marcus and Nan Jacques Zilberdik
|
Abbas' Fatah honors "heroic" killer of "11 Zionists"

Itamar Marcus and Nan Jacques Zilberdik
PA Chairman Abbas' Fatah movement never misses an opportunity to glorify terrorists who have murdered Israelis. Fatah found such an occasion last week, when the movement released a new photo of a "heroic" terrorist who killed 10 Israelis 13 years ago.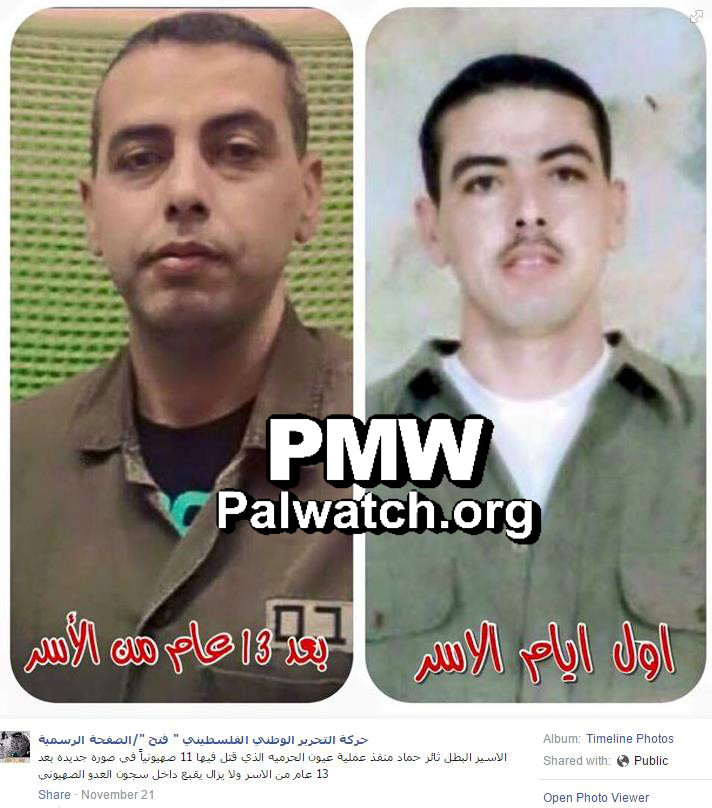 Thaer Hammad is a Palestinian terrorist who is serving 11 life sentences in an Israeli prison for shooting and killing 7 soldiers and 3 civilians with a sniper rifle from a hilltop in Wadi Al-Haramiya in the West Bank on March 3, 2002. Fatah posted two photos of the murderer Thaer Hammad on its official Facebook page:
Text on right picture:
"The first day in captivity"
Text on left picture:
"After 13 years in captivity"
Text below pictures:
"The heroic prisoner Thaer Hammad, who carried out the Wadi Ah-Haramiya operation (i.e., terror attack), in which he killed 11 Zionists (sic, he killed 10), in a new picture after 13 years in captivity. He is still sitting in the Zionist enemy's prison."
[Official Facebook page of the Fatah
Movement, Nov. 21, 2015]
This is in keeping with official PA and Fatah policy of glorifying all terrorists who have killed or tried to kill Israelis. Palestinian Media Watch has pointed this out for many years, and this continues during the current wave of attacks. Significantly, Abbas himself has referred to the current wave of attacks in which many Israelis have been murdered as a "popular peaceful uprising" LNK BULL and he has not condemned even one of the attacks. Therefore it is not surprising that a terrorist who killed 11 during the PA terror campaign from 2000-2005 is also presented now as a "hero" and role model for today's terrorists.