PA Governor honored by Arab-Israeli delegation, tells them about "fall of the Martyrs"
Picture and text posted on official Facebook page of Ramallah & Al-Bireh Governorate on Dec. 8, 2015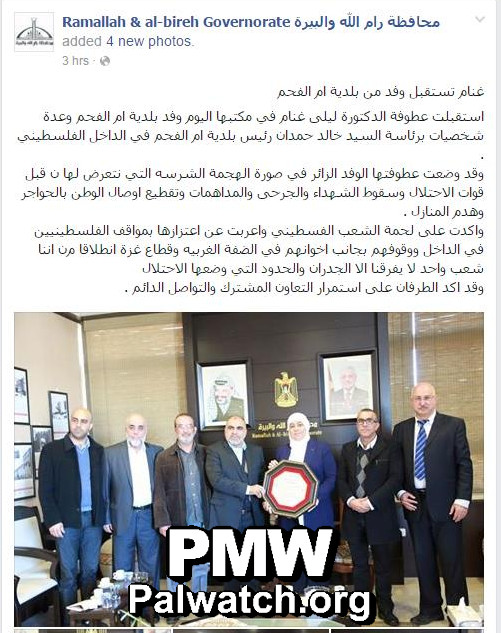 "[Ramallah and El-Bireh district Governor Laila] Ghannam received a delegation from the town of Umm Al-Fahm
The honorable Dr. Laila Ghannam received an Umm Al-Fahm delegation and a number of people, led by Mayor Khaled Hamdan from Umm AL-Fahm in the Palestinian interior (i.e., in Israel), in her office today [Dec. 8, 2015].
Her honor updated the visiting delegation regarding the fierce attack of the occupying forces (i.e., Israel) which we are experiencing, the fall of the Martyrs (Shahids), the injured, the raids, the demolition of homes, and the cutting off of parts of the homeland by checkpoints. She emphasized the unity of the Palestinian people, and expressed pride in the position of the Palestinians in the interior (i.e., in Israel), and their standing alongside their brothers in the West Bank and the Gaza Strip, on the principle of the fact that we are one people, who won't be divided by the definitions and boundaries set by the occupation. The two sides emphasized that they will continue to cooperate and maintain continuous contact."

The picture shows Ghannam and the delegation, with Ghannam holding a plaque on which is written: "The town of Umm Al-Fahm gives in honor and thanks to Her Honor Ramallah and El-Bireh district Governor Dr. Laila Ghannam…"