Fatah Facebook glorifies "heroic Martyr" who stabbed an Israeli to death in the Old City of Jerusalem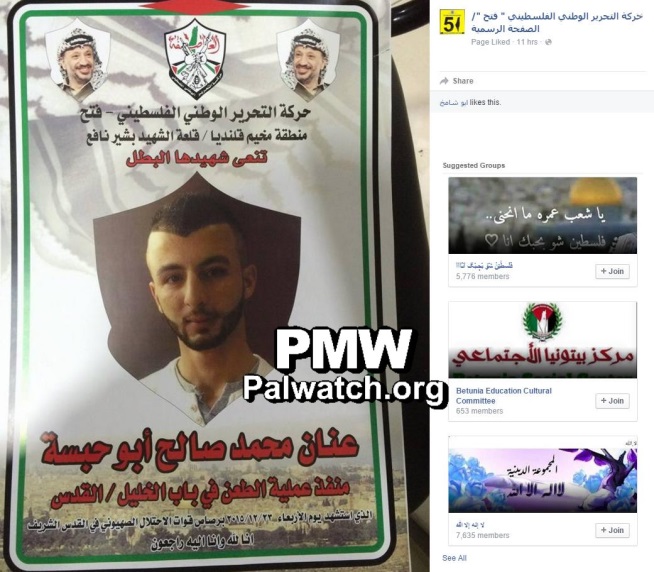 Image posted on the official Fatah Facebook page on Dec. 23, 2015
Text on image:
 "The Palestinian national liberation movement – Fatah
Qalandiya refugee camp / Martyr Bashir Nafa Fortress branch
Announces the death of heroic Martyr (
Shahid
) Anan Muhammad Saleh Abu Habseh
Who carried out the stabbing operation at the Jaffa Gate in Jerusalem
Who died as a Martyr on Wednesday, Dec. 23, 2015, from the gunfire of the Zionist occupation forces in Jerusalem
'Indeed we belong to Allah, and indeed to Him we will return.'" [Sura 2:156, Sahih International translation]
Issa Yassin Assaf and Anan Abu Habseh – 21-year-old and 20-year-old Palestinian terrorists who carried out a stabbing attack at the Jaffa Gate in the Old City of Jerusalem on Dec. 23, 2015. One Israeli was killed and another was wounded in the attack. Israeli police shot and killed the two terrorists and accidentally shot and killed an Israeli who was trying to stop the terrorists.