Fatah vows to continue the struggle against Israel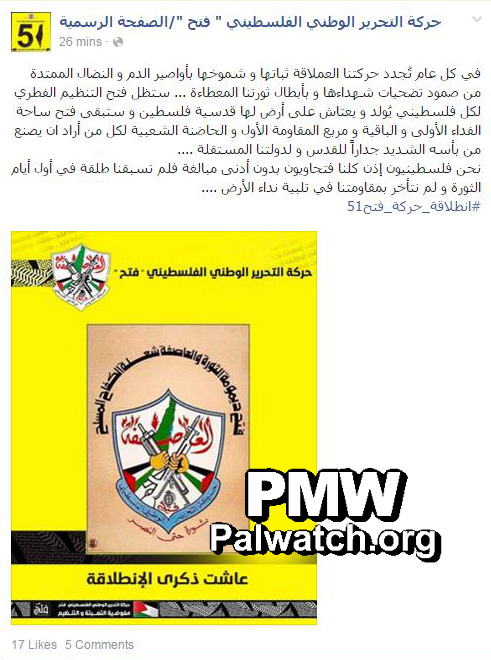 Image and text posted on the official Facebook page of the Fatah Movement
Posted text:
"Every year, our mighty movement renews its steadiness and uprightness through blood connections and the struggle, which extend from the firm sacrifice of its Martyrs (
Shahids
) and the heroes of our generous revolution. Fatah will continue to be the natural organization of every Palestinian who was born and lives on the sacred land of Palestine. Moreover, Fatah will remain the foremost and eternal arena of self-sacrifice, the first circle of resistance, and a popular incubator for anyone who wishes to turn their intense misery into a wall for Jerusalem and our independent state. We are Palestinians, and therefore, without any exaggeration, we are all Fatah people, no shooting preceded us in the first days of the revolution (i.e., Fatah were the first to take up arms against Israel), and it won't take us long to answer the call of the land and to carry out our resistance."
Text in poster:
"Fatah movement
Fatah – the eternal revolution and the storm (
Al-Asifa
), the flame of the armed struggle.
Long live Fatah's Launch (
Intilaqa
)
Fatah's Mobilization and Organization Commission"
"Al-Asifa" was a pseudonym for "Fatah" in its first years. It later became the name of Fatah's military wing

Intilaqa - the "launch" of Fatah on Jan. 1, 1965, when it carried out its first terror attack against Israel, attempting to blow up Israel's National Water Carrier