Fatah official at terrorist's funeral: For Palestine's sake we "accompany to their wedding the righteous Martyrs, who pave the way of freedom and independence with their pure blood"
Photos and text posted on the Facebook page of Fatah Central Committee Member and Commissioner of Arab Relations and Relations with China Abbas Zaki
Posted text:
"Because Palestine is the earthly gate to Heaven and the cradle of monotheistic religions, for its sake we accompany to their wedding (i.e., Martyr's funeral is considered wedding to the 72 Virgins in Paradise in Islam) the righteous Martyrs (
Shahids
), who pave the way of freedom and independence with their pure blood
May Allah have mercy on the Martyrs of Palestine"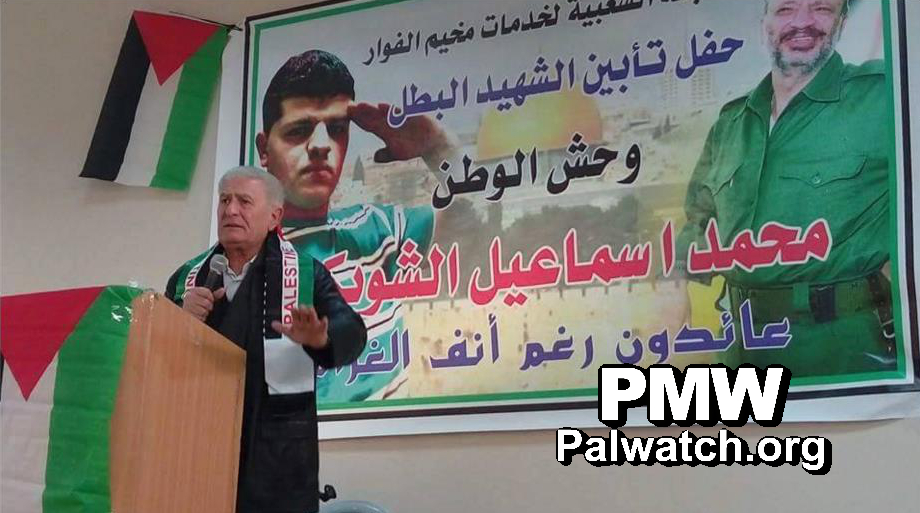 Picture shows Fatah Central Committee Member and Commissioner of Arab Relations and Relations with China Abbas Zaki giving a speech at the funeral ceremony in honor of terrorist Muhammad Al-Shubaki who stabbed and wounded an Israeli soldier.
Text on poster:

"The popular services committee at the Al-Fawwar refugee camp
Funeral ceremony of the heroic Martyr
The homeland's wild animal
Muhammad Ismail Al-Shubamki
We will return, whether the invaders like it or not"
Muhammad Al-Shubaki – Palestinian terrorist who stabbed and wounded an Israeli soldier at the entrance to the Al-Fawwar refugee camp, next to Kiryat Arba, on Nov. 25, 2015. Al-Shubaki was wounded and treated in an Israeli hospital, where he later died of his wounds.