PA Education Minister honors Marwan Barghouti in speech to Palestinian students
Images and text posted on the Facebook page of the PA Ministry of Education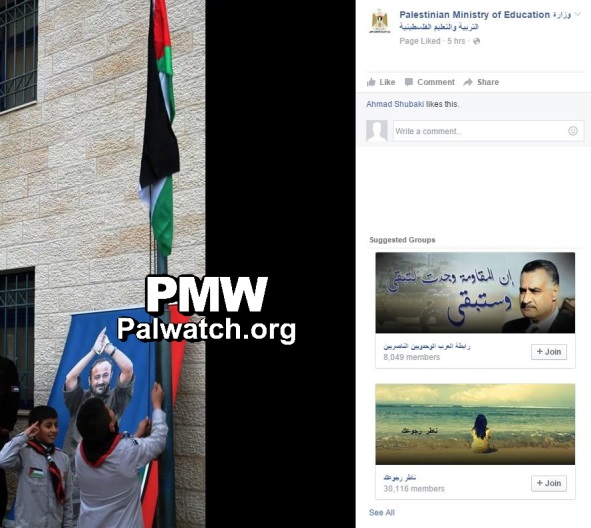 Posted text:
"The schools in the State of Palestine have raised the Palestinian flag this morning [Jan. 3, 2015] in response to the [PA] Ministry of Education and Higher Education's call to commemorate [Palestinian ] flag day in schools on this day every year… In order to emphasize the flag's status as a symbol of sovereignty, independence, and freedom, Minister of Education and Higher Education Sabri Saidam participated this morning, together with students of schools in [the village of] Kobar, which are subordinated to the Ramallah and El-Bireh Education Administration, in the 'flag day' events in the schools... In his speech, Saidam emphasized that cherishing the Palestinian flag in the homeland's schools demonstrates the inculcation of noble values and ideas in the young souls, and the loyalty to the blood of the Martyrs (
Shahids
), the struggle of the prisoners and the sacrifices of the wounded. He also praised the residents of the village of Kobar, and mentioned the prisoner leader [Palestinian Parliament Member] Marwan Barghouti, who serves time in the occupation's prison camps for the freedom and honor of our people and the young generations."
Marwan Barghouti - serving 5 life sentences for orchestrating three shooting attacks that killed 5 people: one in Jerusalem (June 12, 2001, 1 killed), another in Givat Zeev near Jerusalem (Jan. 15, 2002, 1 killed), and one in Tel Aviv (March 5, 2002, 3 killed). When arrested in 2002, he headed the Tanzim (Fatah terror faction). After he was convicted and imprisoned, he was re-elected member of the Palestinian Authority parliament.