JPost: PMW presentation to Swedish MPs to lead to parliamentary debate

Headline
: Swedish opposition lawmakers to call Wallström out over Palestinian incitement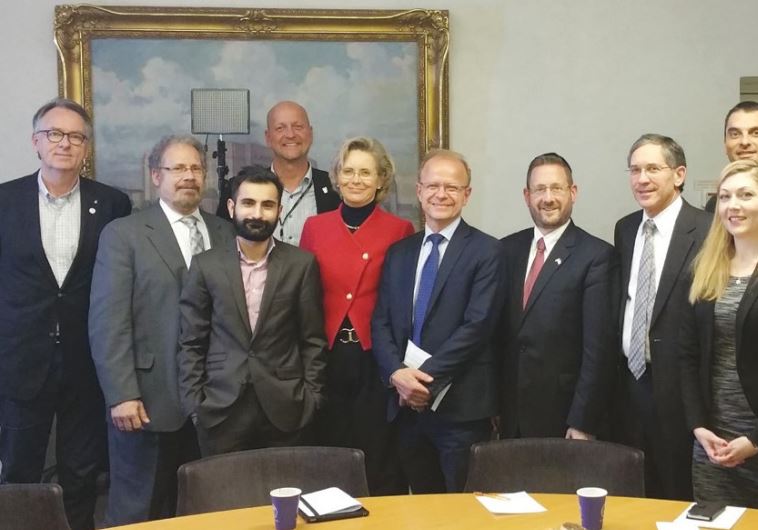 Swedish MP Margareta Cederfeldt (fifth from left) poses with,
to her right, fellow MP Mikael Oscarsson, WZO director of public diplomacy Dov Lipman, Palestinian Media Watch's Itamar Marcus and other opposition lawmakers yesterday in Stockholm.
(photo credit:Courtesy)


Swedish opposition MPs said Tuesday evening that they would call the country's foreign minister, Margot Wallström, to a mandatory parliamentary debate regarding incitement to violence emanating from the Palestinian Authority, as well as rising concerns over foreign aid given to the PA.

The comments were made during a meeting at the Swedish parliament in Stockholm initiated by MP Mikael Oscarsson of the Christian Democrats... Seven Swedish MPs from four parties attended the meeting.

They were addressed by Itamar Marcus, director of Palestinian Media Watch, who highlighted in particular recent comments made by Jibril Rajoub, deputy secretary of the Fatah Central Committee, where Rajoub expressed support and encouragement for Palestinian violence against Israelis.

"I say that whoever carried out individual acts of heroism, we in the Fatah movement bless and encourage them. We consider them heroes and a crown on the head of every Palestinian," Rajoub said on January 2 in reference to the wave of knife attacks, car rammings and other forms of terrorism carried out in recent months against Israelis.

The MPs were also shown examples of incitement from other PA officials, as well as incitement from PA-controlled media and social media accounts.

MP Margareta Cederfeldt (Moderate Party) said that "the incitement in the Palestinian schools is appalling and shocking," while Oscarsson was similarly disturbed.

"We must check where the funding that we send to the PA is going. We cannot support incitement to terror," he said.


"We will call Foreign Minister Wallström to the plenum and force her to answer the evidence of incitement that we just saw."

Marcus called for the Swedish parliament to sanction Rajoub for his encouragement of violence against Israeli civilians.

"There have to be political ramifications to calls for murder by senior PA and Fatah officials," he told the lawmakers.

"Especially since Rajoub said that the PA is watching to see the international community's response to its killing of Israelis, to be silent now following these statements by Rajoub is perceived by the PA as a green light to murder, and is facilitating murder," Marcus went on.

"Sweden, along with all European countries, has a moral obligation to distance itself from Rajoub in a clear and politically meaningful way, including prohibiting his entry into Sweden, as they would to any other open promoter of murder."

The Swedish MPs are also seeking to advance a resolution raised in parliament to censure Rajoub for his comments, to ban him from Sweden until he retracts them, and to condemn the Fatah party.
[http://www.jpost.com/Arab-Israeli-Conflict/Swedish-opposition-lawmakers-to-call-Wallstr%C3%B6m-out-over-Palestinian-incitement-442101]