Fatah Facebook posts picture of Palestinian baby named after PA security guard who shot 3 Israeli soldiers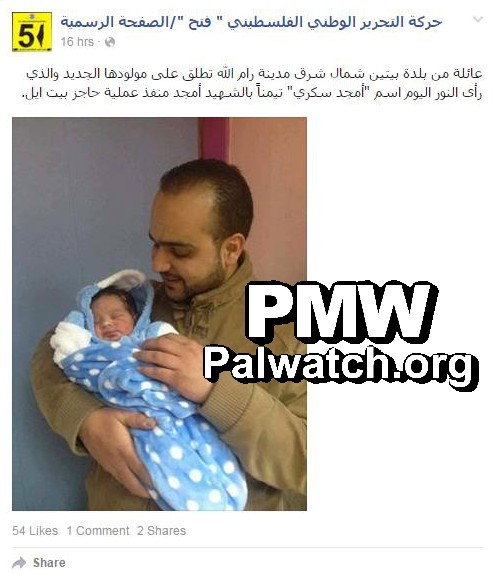 Photo and text posted on the official Fatah Facebook page on Feb. 1, 2016.
Posted text:
"A family from the village of Beitin, northeast of Ramallah, named its newborn son that was born today [Feb. 1, 2016] Amjad Sukkari, after Martyr (Shahid) Amjad, who carried out the Beit-El checkpoint operation (i.e., terror attack).
Amjad Jasser Al-Sukkari – 34-year-old Palestinian terrorist who injured 3 Israeli soldiers in a shooting attack next to the Jewish town of Beit-El, adjacent to Ramallah, on Jan. 31, 2016. Al-Sukkari was shot and killed by Israeli soldiers. Al-Sukkari was the personal security guard of the PA General Attorney.