Fatah "accompanies" 3 "heroic Martyrs" [i.e., terrorists] who murdered Israeli policewoman in Jerusalem "to their weddings"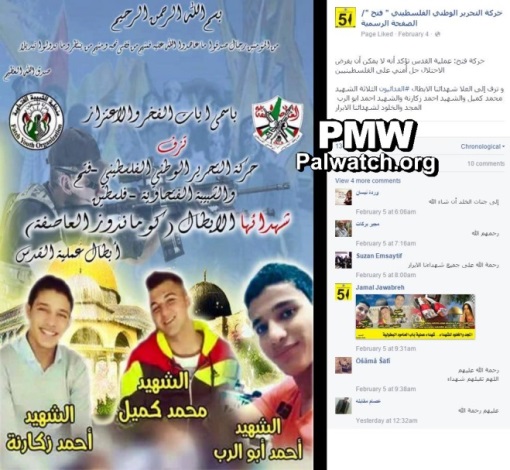 Text and image posted on the official Fatah Facebook page on Feb. 4, 2016
Posted text:
"Fatah movement: The operation (i.e., terror attack) in Jerusalem proves that the occupation cannot force a security solution on the Palestinians.
[Fatah] accompanies to Paradise its heroic Martyrs (
Shahids
), the three self-sacrificing fighters (
Fedayeen
), Martyr Muhammad Kmeil, Martyr Ahmad Zakarneh, and Martyr Ahmad Abu Al-Rub. Eternity and glory to our righteous Martyrs."
Text in image:
"With great honor and pride
The Palestinian National Liberation Movement 'Fatah'
And the Shabiba [movement] of Fatah in Palestine
Accompany to their weddings (i.e., Martyr's funeral is considered wedding to the 72 Virgins in Paradise in Islam)
Their heroic Martyrs (Al-Asifa commando) [parentheses in source]
Heroes of the Jerusalem operation
Martyr Ahmad Abu Al-Rub, Martyr Muhammad Kmeil, Martyr Ahmad Zakarneh"
Ahmad Najah Abu Al-Rub, Ahmad Zakarneh and Muhammad Kmeil - Three Palestinian terrorists in their early 20's who shot and stabbed two Israeli police officers at the Damascus Gate in Jerusalem on Feb. 3, 2016. One of the officers, 19-year-old Hadar Cohen, was fatally wounded and died of her wounds. The second officer was seriously wounded. The terrorists, who attacked the policewomen after they were asked for identification, were carrying machine guns, knives, and pipe bombs, leading the police to suspect they were planning a mass attack against civilians. The terrorists were shot and killed at the scene by Israeli police.