PA cartoon: Israel is snake, its head a rifle targeting Muslim and Christian holy sites
Itamar Marcus and Nan Jacques Zilberdik
|
Israel is snake, its head is a rifle
targeting Muslim and Christian holy sites,
in official PA daily cartoon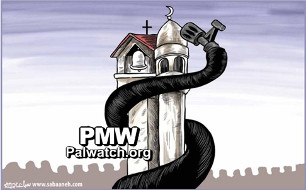 Itamar Marcus and Nan Jacques Zilberdik
Depicting Israel as a snake with its head a rifle, this official Palestinian Authority daily cartoon expressed visually the PA libel that
Israel is targeting Muslim and Christian holy sites
. The cartoon shows a

snake with the head of a rifle coiled around a mosque and a church while aiming the rifle at the towers.
Palestinian Media Watch
has documented this libel as well as the PA's portrayal of Israel as a snake, an octopus, wolves and rats threatening Jerusalem and the holy sites.
The libel that Israel is working to destroy the Al-Aqsa Mosque to build "
the alleged Temple
" as well as the PA message that
Israel seeks to "Judaize"
the Old City of Jerusalem are constantly kept alive by PA and Fatah leaders to instill fear, anger, and hatred in the Palestinian population. Whenever the PA leaders want violence and terror attacks, they build on these feelings, intensify the libels and use them to justify calling Palestinians to use violence to "defend" and "protect" the holy sites.
Thus PA Chairman Abbas
used these libels
as a pretext for encouraging Palestinians to use "everything in our power" to "protect" the Al-Aqsa Mosque in a speech in September 2015, leading to the onset of the current wave of terror attacks:

"The Al-Aqsa [Mosque] is ours... and they have no right to defile it with their filthy feet. We will not allow them to, and we will do everything in our power to protect Jerusalem."
In that speech, Abbas also promised Palestinians that "every Martyr" who engaged in the "protection" of the mosque against the Jews' "filthy feet" would "reach Paradise," and "everyone wounded" would be "rewarded by Allah" - a strong motivator for a religious population that has been made to believe that Israel wants to destroy its holy places:
"We bless every drop of blood that has been spilled for Jerusalem, which is clean and pure blood, blood spilled for Allah, Allah willing. Every Martyr (Shahid) will reach Paradise, and everyone wounded will be rewarded by Allah."
[Official PA TV, Sept. 16, 2015
and official website of PA Chairman Abbas, Sept. 16, 2015]