PA Mayor organizes visit to families of 9 terrorists, terrorist murderer's mother hands out candies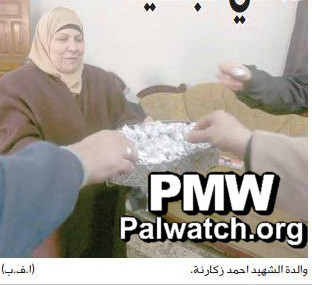 Zakarneh's mother is seen giving out candies to people visiting her home to offer condolences.
Caption: "Martyr Ahmad Zakarneh's mother"
Headline: "The occupation does not succeed in dampening the spirit of resistance in Qabatiya"
"Despite the 'hard blow' Israel gave Qabatiya by imposing a curfew on it for four days, [carrying out] arrests, demolishing homes, and revoking work permits, in what seems like an attempt to teach them a 'lesson,' it looks like it has failed to dampen the spirit of resistance in the town. This small town, which has 25,000 residents and is located on the hills in the north of the West Bank, is proud of a long history of struggle. Mayor Mahmoud Kmeil emphasized: 'We have resisted all of the occupiers here,' noting the British Mandate in Palestine, the Ottoman empire, and the Israeli occupation today. Today, he is organizing a visit of officials with the families of nine young people from Qabatiya who have died as Martyrs (
Shahids
) since October while attacking Israelis. The last attack was on Feb. 3 [2016], when three young people from important families in the town killed Israeli policewoman Hadar Cohen, 19, at the entrance to the Old City of Jerusalem.
Among the young people was Ahmad Zakarneh, 19. His big sister Nasrin talked about him with tears in her eyes: 'He had a beloved, a job, and a family he loved, but he left all of it in order to defend the Palestinian cause.'
In the family's home the other ten sons sat around their mother, who expressed pride in her son. The day after the operation (i.e., terror attack), occupation soldiers came to measure the home in preparation for its demolition…
In the village, posters have been distributed that praise the operation carried out by her son, alongside faded pictures of other martyrs from the First Intifada. Ahmad Zakarneh's mother said: "All of the residents are expressing solidarity with us.'"
Ahmad Abu Al-Rub, Ahmad Zakarneh and
Muhammad Kmeil - Three Palestinian terrorists in their early 20's who shot and stabbed two Israeli police officers at the Damascus Gate in Jerusalem on Feb. 3, 2016. One of the officers, 19-year-old Hadar Cohen, was fatally wounded and died of her wounds. The second officer was seriously wounded. The terrorists, who attacked the policewomen after they were asked for identification, were carrying machine guns, knives, and pipe bombs, leading the police to suspect they were planning a mass attack against civilians. The terrorists were shot and killed at the scene by Israeli police.