Fatah Facebook "accompanies to his wedding" an attempted stabber , the "heroic Martyr"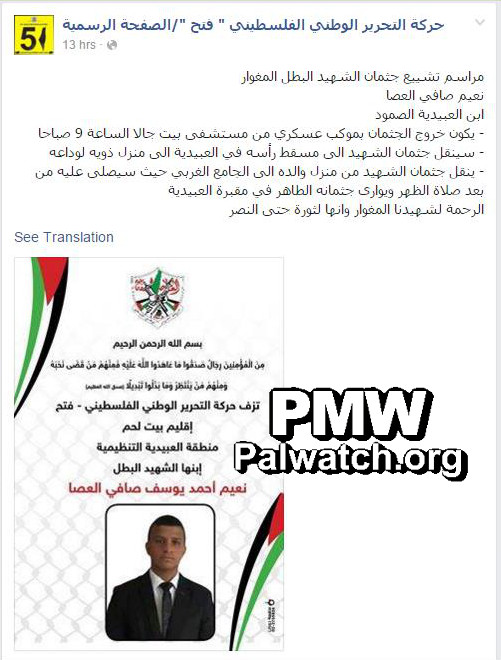 Image and text posted on official Facebook page of the Fatah movement on Feb. 14, 2016

Posted text:

"The funeral for the body of the heroic, daring Martyr (Shahid) Na'im Yusuf Safi Al-Asa,
A resident of Al-Ubeidiya which stands strong
- The body will be carried in a military procession that will leave from the Beit Jala Hospital at 9:00 a.m.
- The Martyr's body will be taken to his birthplace Al-Ubeidiya, to the house of his relatives, so that they can bid him farewell.
- The Martyr's body will be taken from his father's home to the western mosque, where they will pray for his soul after the noon prayers
- His pure body will be buried in the Al-Ubeideya cemetery
Have mercy on our daring martyr, the revolution is until victory"

Text on poster:

"In the name of All Merciful Allah
'Among the believers are men true to what they promised Allah. Among them is he who has fulfilled his vow [to the death], and among them is he who awaits [his chance]. And they did not alter [the terms of their commitment] by any alteration"' (Sura 33:23, Sahih International)
The Al-Ubeidiya organizational branch of the Bethlehem branch of Fatah accompanies to his wedding (i.e., Martyr's funeral is considered wedding to the 72 Virgins in Paradise in Islam)
Its son, the heroic Martyr
Na'im Yusuf Safi Al-Asa"

Na'im Yusuf Safi Al-Asa – 17-year-old Palestinian terrorist who attempted to stab an Israeli soldier at a checkpoint near Har Homa, a neighborhood in south-east Jerusalem, on Feb. 14, 2016. An Israeli policeman shot Al-Asa and he died of his wounds.