Fatah Facebook: "Stand on the Martyr's (Shahid) grave and let out cries of joy"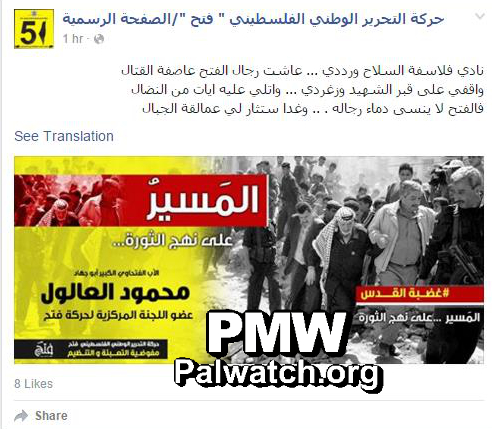 Text and image published on the official Fatah Facebook page
Posted text
(addressing a woman/feminine):
"Call out to the weapon philosophers over and over, long live the men of Fatah, the storm of fighting (the storm, "
Al-Asifa
," was a pseudonym for "Fatah" in its first years. It later became the name of Fatah's military wing –Ed.)
Stand on the Martyr's (
Shahid
) grave and let out cries of joy, and recite verses of struggle for him
Fatah does not forget its people's blood, and tomorrow the mountains' giants will avenge my blood."
Text on poster:
Lower right side, under the picture of Arafat and Fatah Central Committee member Mahmoud Al-Aloul:
"#rage_of_Jerusalem
walking the path of the revolution"
Left side:
"Walking the path of the revolution
The great Fatah father Abu Jihad , Mahmoud Al-Aloul
Fatah Central Committee member"
Signature at the bottom: 
"Fatah's Mobilization and Organization Commission"