Al-Quds and Birzeit University students form "chain of readers" in terrorist's honor
Headline: "Baha Alyan - the body is no longer, but the idea lives"
"At 10:00 a.m. reading and Martyr time, more than 500 students of Birzeit University gathered at the entrance to the humanities faculty and waited for Muhammad Alyan, father of Martyr Baha Alyan (i.e., terrorist who participated in attack where 3 Israelis were murdered) the first who had the idea of a chain of readers, and the family of Martyr Muhannad Halabi (i.e., terrorist who murdered 2), who all came in order to commemorate the idea of a chain of readers... A few minutes after 10:00 am, the students arranged themselves in a row on the long sidewalk that connects the humanities faculty and the university's cafeteria. Ninety percent of them were women, and every participant held a book. Martyr Baha Alyan's father passed in front of the chain and blessed the participants one by one. He said: 'The significance of this chain is that we are a people that loves life, which does not like to stab, but is forced to do so in order to live. Commemorating the Martyrs must be done by following their path of culture, and by continuing to hold cultural activities.' Alyan spoke of the importance of culture in the ideology of the young people of resistance, as it is the first weapon capable of reorganizing society in a proper manner, for the purpose of liberation and revival, when the resistance member knows when and how to use it...
The coordinator of the reading campaign, Muhammad Jaradat said: 'The chain [of readers] at Birzeit today [Feb. 21, 2016] is a continuation of what Martyr Baha Alyan began at Damascus Gate [in Jerusalem], and its purpose is to strengthen the culture and express solidarity with the Martyrs' families.' ...
Tens of thousands of participants surrounded the walls of the Old City of Jerusalem... in the first chain [of readers], which Martyr Baha Alyan began in March 2015. Baha died as a Martyr in December of the same year, but the idea remains:
Hundreds of students at Hebron University
participated in a chain of readers on Feb. 1, [2016]. Al-Quds University followed in its footsteps with an additional chain [of readers] on Feb. 13, and today Birzeit [University] fulfills its role in the advancement of reading and culture. Hundreds and thousands gathered in an unusual sight... thanks to the idea of a Martyr whose body is still being held in the occupation's refrigerators after 130 days, while his idea floats freely over the land of Palestine."
Click to view bulletin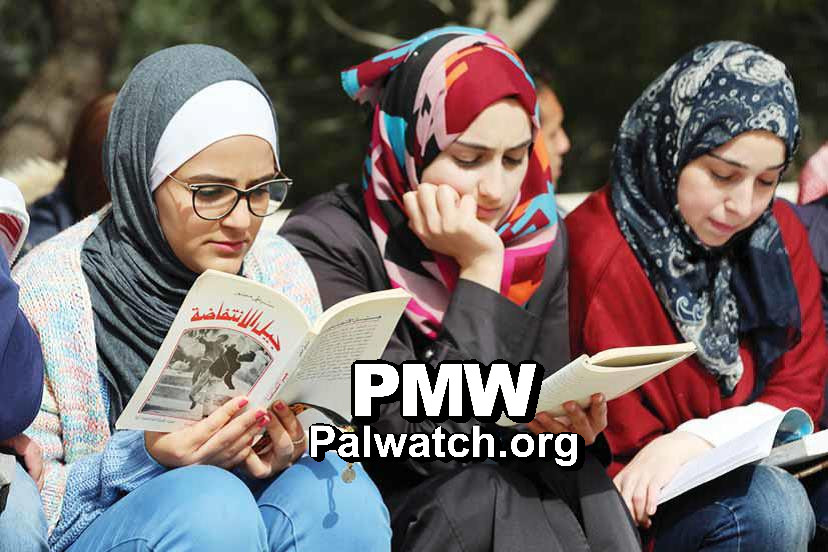 Jerusalem line 78 bus terror attack - On Oct. 13, 2015, two Palestinian terrorists, Baha Alyan (22) and Bilal Ghanem (23) boarded a bus in Jerusalem's Armon Hanatziv neighborhood with a gun and a knife and attacked passengers, killing Israelis Haviv Haim (78) and Alon Govberg (51),and Richard Lakin (76), and wounding 3 Israelis. Alyan was shot and killed by an Israeli security guard at the scene and Ghanem, a Hamas terrorist who served time in Israeli prison in 2013-2014, was wounded.

Jerusalem Old City stabbing attack - On Oct. 3, 2015, Palestinian terrorist Muhannad Halabi, 19, from the West Bank city of El-Bireh attacked Israeli citizen Aharon Bennet, 21, and his family, who were on their way back from prayer at the Western Wall. The terrorist killed Aharon and Israeli citizen Nehemia Lavi, who came to the family's aid, and injured Aharon's wife and 2-year-old son. Following the attack, the terrorist was shot and killed by Israeli security forces. Prior to his attack, in a post to his private Facebook page, the terrorist referred to recent terror attacks as part of a "third Intifada," and said that it was a response to Israel's actions at the Al-Aqsa Mosque and that the Palestinian people would not "succumb to humiliation." This is a reference to the PA libel that Israel is plotting to take over and destroy the Al-Aqsa Mosque and to the PA's portrayal of Jews praying on the Temple Mount as "an invasion of the Al-Aqsa Mosque."


» View analysis citing this item