Cartoon in official PA daily criticizes use of children in terror wave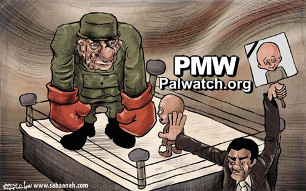 Cartoon published in the official PA daily,
Al-Hayat Al-Jadida
The cartoon shows a Palestinian politician in a suit and tie pushing a small child into a boxing ring, where a sturdy, threatening Israeli soldier with boxing gloves is waiting. The politician is also holding a sign with the picture of a dead child Martyr (
Shahid
), implying that this child was killed in the boxing ring. The cartoon expresses criticism over the use of children as part of the current wave of Palestinian terror attacks against Israel.