Fatah Facebook honors terrorist stabber as "Martyr" who carried out "heroic stabbing operation"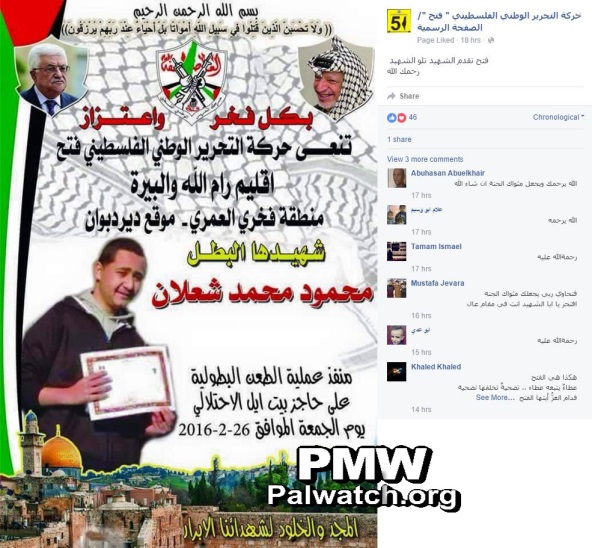 Text and image posted on the official Fatah Facebook page on Feb. 27, 2016
Posted text:
"Fatah sacrifices Martyr (
Shahid
) after Martyr"
Text in image: 
"In the name of All Merciful Allah
'And never think of those who have been killed in the cause of Allah as dead. Rather, they are alive with their Lord, receiving provision' (Sura 3:169, Sahih International)
With utmost honor and pride
The Palestinian National Liberation Movement Fatah – Ramallah and El-Bireh branch…
announces the death as a Martyr of its hero
Mahmoud Muhammad Sha'alan
Who carried out the heroic stabbing operation at the occupation checkpoint at Beit-El
On Friday Feb. 26, 2016
Eternity and glory to our righteous Martyrs"
Mahmoud Muhammad Sha'alan – 17-year-old Palestinian terrorist who tried to stab Israeli soldiers at the Beit-El checkpoint, near Ramallah, on Feb. 26, 2016. He was shot and killed by the soldiers.