Palestinian newspaper glorifies female terrorists for International Women's Day
Headline: "Palestinian women that have participated in the making of history"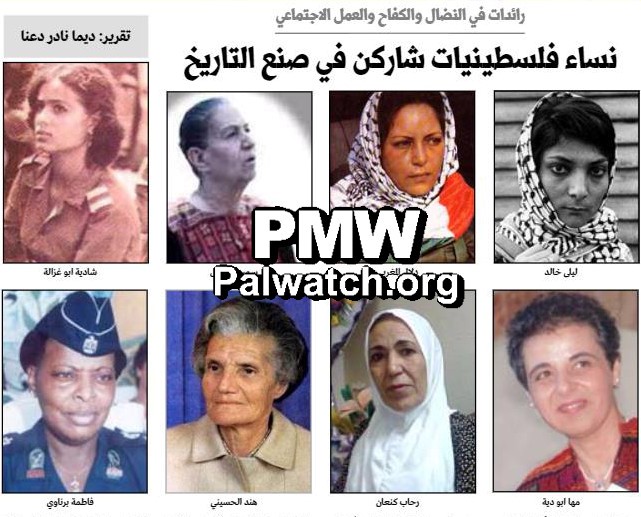 Pictures:
Top row from right: Laila Khaled (plane hijacker), Dalal Mughrabi (led killing of 37), Samiha Khalil, Shadia Abu Ghazaleh (bomb maker). Bottom row from right, Maha Abu Dayyeh, Rihab Kana'an, Hind Al-Husseini, Fatima Barnawi (placed a bomb in a theater).
"For many years the Palestinian woman has experienced the expulsion and displacement that all of the Palestinian people has experienced from the British Mandate to the Israeli occupation. Every Palestinian woman chose a specific path of resistance through which she was the best support for the man and the breeder of future men. On this day which is dedicated to her (i.e., International Women's Day), we will remember a number of the homeland's women who have influenced all areas of the Palestinian sphere, and in particular in the area of activity for the struggle and national and social activity.
The fighter Shadia Abu Ghazaleh
The first military Martyr (
Shahida
) after the relapse (Naksa) of 1967 (i.e., the Six-Day War, which Arab nations initiated and later lost against Israel). She was born in 1949 in Nablus, and began her political activities at a young age. She joined the Arab Nationalist Movement in 1962. After the relapse, the Popular Front for the Liberation of Palestine [PFLP] emerged from the Arab Nationalist Movement, and she became one of the members of its leadership. She participated in self-sacrifice operations against the occupation, but on Nov. 28, 1968, she prepared a bomb in her home that was meant to explode in an Israeli building in Tel Aviv, and the bomb exploded in her hands, leading to her death as a Martyr.
Self-sacrificing fighter (Fida'iya) Zakiya Shammout

One of the first self-sacrificing fighters to carry out operations (i.e., terror attacks) against the occupation. She was the first Palestinian woman to give birth to her daughter in an Israeli prison cell. She was born in Haifa in 1945, and joined self-sacrifice activities in 1968. She carried out seven self-sacrifice operations but was arrested together with her husband at the beginning of the 70s, while in her fifth month of pregnancy, and sentenced to 12 life sentences. On Feb. 18, 1972 Zakiya gave birth to her daughter Nadia in the Israeli Neve Tirza prison in Ramle, and in 1983 she was released and exiled to Algeria. She died in 2014.
Martyr Dalal Mughrabi
One of the most well-known Palestinian fighters. She was born in 1958 in one of the refugee camps in Beirut to a family from Jaffa that escaped to Lebanon after the 1948 war. She joined the ranks of the Palestinian revolution early, and took a number of military courses and lessons in guerilla fighting and the use of weapons. Mughrabi was influenced by the assassination of the three officers Kamal Adwan, Kamal Nasser, and Abu Yusuf Al-Najjar in 1973, which led her to participate in the Kamal Adwan operation (i.e., Coastal Road massacre, 37 murdered) planned by Khalil Al-Wazir (i.e., Abu Jihad). On March 11, 1978, Dalal and her group succeeded in reaching Tel Aviv and taking over an Israeli bus that was transporting soldiers (sic., the passengers were all civilians). A confrontation took place between the self-sacrificing fighters and the [Israeli] soldiers that led to dead and injured in the ranks of the Israeli army. After Ehud Barak (later to serve as a Prime Minister of Israel –Ed.) gave the order to stop the bus and kill the self-sacrificing fighters, Dalal blew up the bus with its passengers…
The fighter Fatima Barnawi
From among the first female Palestinians to adopt the armed self-sacrifice (Fida'iya) activity, from the beginning of the modern Palestinian revolt in 1965. She was also the first female prisoner officially registered in the lists of the women's movement in the history of the modern Palestinian revolution, and the founder of the female Palestinian police in 1994. She was born in Jerusalem in 1939, and was arrested in 1967 after she placed a bomb in the Zion movie theater in Jerusalem. At the time she was sentenced to life imprisonment, but she served only 10 years [and was released] in what was described by the [Israeli] Prison Service as a 'goodwill gesture' to Egypt. However, she was still exiled, and she continued her struggle after her release…
The fighter Laila Khaled
The first woman to hijack an Israeli plane in 1969. She was born in Haifa in 1944. She hijacked a TWA plane, and diverted it from its path to Syria in order to release [Palestinian] prisoners in Palestine and draw the world's attention to the Palestinian cause. After some time she hijacked a plane of the American TWA [airline] (sic., it was actually an El Al plane) which was forced to land in London. She was arrested and became a prisoner of Scotland Yard. The British government released her in a prisoner exchange…
The artist Umaya Juha
The first cartoonist in Palestine and the Arab world. She was born in the city of Gaza in 1972, and was defined as a terrorist and antisemite by the Israeli side, and forbidden to enter the West Bank out of security concerns. She participated in many local, Arab, and international exhibits, and won the Arab Press Prize for the best cartoon in 2000. Likewise, she also won first place in cartoons in the homeland districts in the yearly creativity competition of the Palestinian Ministry of Culture contest in 1999."
Zakiya Shammout
– a Palestinian female terrorist involved in several attacks including the placing of a bomb in the Afula market on Oct. 6, 1969, killing 1 and injuring dozens. Shammout was sentenced to life in prison, but was released in a prisoner exchange deal in 1983 (in which Israel released 4,700 terrorists held in Lebanon and 65 terrorists held in Israel in exchange for 6 Israeli soldiers captured by Fatah terrorists in Lebanon –Ed.) and exiled to Algeria. She died in 2014.

Dalal Mughrabi led the most lethal terror attack in Israel's history, known as the Coastal Road massacre, in 1978, when she and other Fatah terrorists hijacked a bus on Israel's Coastal Highway, killing 37 civilians, 12 of them children, and wounding over 70.

Laila Khaled - PFLP terrorist who participated in the hijacking of TWA flight 840 on Aug. 29, 1969 from Rome to Athens and the hijacking of El Al flight 219 on Sept. 6, 1970 from Amsterdam to New York. The second hijacking was averted by the pilot and security personnel on board. They shot Khaled's accomplice, Patrick Argüello, who had killed one of the flight attendants. Khaled was overpowered and the plane landed in London where Khaled was handed over and held by British police until she was exchanged on Oct. 1, 1970 with hostages held by the PFLP.

Shadia Abu Ghazaleh was active in the Popular Front for the Liberation of Palestine (PFLP) terror organization and was involved in many attacks against Israel. While she was preparing a bomb for an attack in Tel Aviv in 1968, it accidentally detonated and killed her.

Fatima Barnawi placed a bomb in a movie theater in Jerusalem in 1967 in an attempt to blow it up. The bomb failed to explode. She was sentenced to life imprisonment but was released in 1977 after serving 10 years. In 2015, PA Chairman Mahmoud Abbas honored Barnawi with the Military Star of Honor.

Kamal Adwan and Kamal Nasser were both senior members of Black September who were killed by Israeli forces in April 1973. Kamal Nasser was also the spokesperson for the PLO and Fatah. Kamal Adwan was responsible for Fatah terrorist operations in Israel.

Abu Yusuf Al-Najjar was Arafat's deputy and among the founders of Fatah. He was the Commander of Al-Asifa, Fatah's military unit, and member of Fatah's Central Committee and PLO's Executive Committee. He also was the Commander of Operations of the terrorist organization Black September and involved in the murder of 11 Israeli athletes at the Munich Olympics (Sept. 5, 1972). He was killed by Israel in 1973.

Abu Jihad (Khalil Al-Wazir) was a founder of Fatah and deputy to Yasser Arafat. He headed the PLO terror organization's military wing and also planned many deadly Fatah terror attacks. These attacks, which killed a total of 125 Israelis, included the most lethal in Israeli history - the hijacking of a bus and killing of 37 civilians, 12 of them children.

Umaya Juha – a cartoonist with Hamas connections – her first and second husbands were members of the Hamas military wing, the Izz A-Din Al-Qassam Brigades, and she is known for her inciting cartoons.