Fatah glorifies terrorist Dalal Mughrabi and her accomplices that killed 37: "They will remain in their people's hearts forever"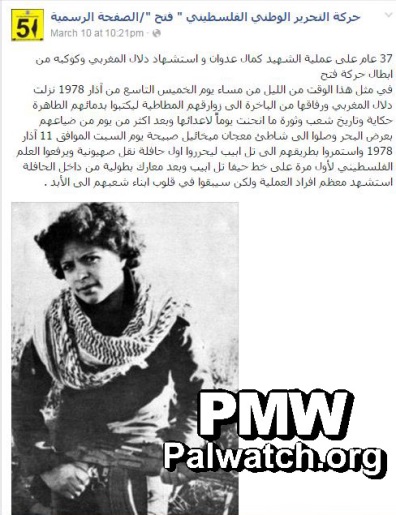 Image and text posted on the official Fatah Facebook page
Posted text:
"Thirty-eight years since the Kamal Adwan operation (i.e., terror attack with 37 murdered) and the death as a Martyr (Shahida) of Dalal Mughrabi and a group of heroes of the Fatah Movement. Exactly at this time, on Thursday evening, March 9, 1978, Dalal Mughrabi and her comrades disembarked from the ship into their inflatable boats, in order to write with their pure blood a story and history of a people and revolution that have never bowed down before their enemies. More than a day after they got lost at sea, they reached the shore of Ma'agan Michael (i.e., Israeli kibbutz) on Saturday morning, March 11, 1978. They continued on their way to Tel Aviv and took over the first bus that transported Zionists, and raised the Palestinian flag for the first time on the Haifa- Tel Aviv road. After heroic battles inside the bus, most of the operation members died as Martyrs, but they will remain in their people's hearts forever."
Dalal Mughrabi led the most lethal terror attack in Israel's history, known as the Coastal Road massacre, in 1978, when she and other Fatah terrorists hijacked a bus on Israel's Coastal Highway, killing 37 civilians, 12 of them children, and wounding over 70.