Killer of Israeli teen is "heroic prisoner," according to PA Governorate
Itamar Marcus and Nan Jacques Zilberdik
|
PA Governorate:
Killer of Israeli teen is "heroic prisoner"
[Ramallah Facebook page]

Governor of Ramallah meets with family of killer of 16-year-old Ofir Rahum and is "counting the days until it can receive Abd Al-Fattah (i.e., the killer) as a free man"
Itamar Marcus and Nan Jacques Zilberdik
The Palestinian Authority continues to show its unequivocal support for and glorification of murder of Israelis.
In 2001, an Israeli teen, Ofir Rahum, was tricked into meeting with a Palestinian woman. The woman, Amna Muna, met Rahum in an internet chat room and engaged him in an online friendship that culminated in his agreeing to meet her. It was a trap and the woman drove him to Ramallah where two terrorists were waiting. They shot and murdered the 16-year-old.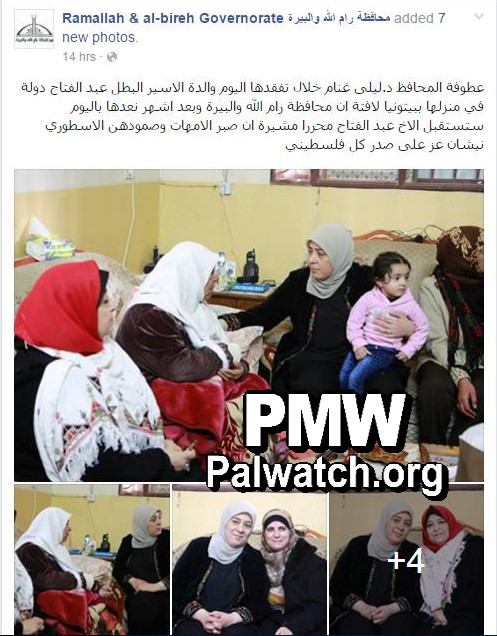 Following District Governor of Ramallah Laila Ghannam's recent meeting with the family of one of the killers, Abd Al-Fattah Doleh, the Ramallah Facebook page called the killer a "heroic prisoner." Governor Ghannam (seen in the image with a child on her lap) added that the district of Ramallah can't wait to see the killer released:


"Ghannam noted that the Ramallah and El-Bireh district is counting the days until it can receive Abd Al-Fattah as a free man."

[Official Facebook page of Ramallah & Al-Bireh Governorate, March 16, 2016]
Ramallah's "heroic prisoner" Abd Al-Fattah Doleh, is a member of Fatah's military wing the Tanzim. He was arrested in 2004 and later convicted of participating in the kidnapping and murder of 16-year-old Ofir Rahum on Jan. 17, 2001. Doleh was sentenced to 12 years in prison. Amna Muna who planned and organized the kidnapping and murder was sentenced to life imprisonment but was later released in the 2011 Gilad Shalit exchange deal.

Palestinian Media Watch
has documented that the
District Governor of Ramallah, Laila Ghannam,
as policy glorifies murderers and other terrorists. She recently participated in an event hosted by the
Palestinian Red Crescent glorifying the most lethal terror attack
in Israel's history. At the event, Ghannam expressed her "great pride" in Dalal Mughrabi who led the attack and the murder of 37 people, including 12 children.

In 2015, Ghannam received the "
Liberty Bell Award
" and a "Citation of Honor" from Philadelphia Councilwoman Maria Sanchez. However, after PMW exposed Ghannam's terror support and notified Sanchez and the Philadelphia Municipality, the award was rescinded. Ghannam explained that the citation had been withdrawn from her because of her "support of terror," and responded that she was
not upset that she lost the award
: "We are not interested in citations of honor that require us to slander our fighters and our supporting pillars as terrorists."

The following is the Facebook post on the Governor Ghannam's district's Facebook page:

Posted text: "Honorable [Ramallah and El-Bireh] District Governor Dr. Laila Ghannam during her visit today [March 16, 2016] with the mother of the heroic prisoner Abd Al-Fattah Doleh in her home in Betunia. Ghannam noted that the Ramallah and El-Bireh district is counting the days until it can receive Abd Al-Fattah as a free man, and that the mothers' heroic patience and resolve is a mark of pride on the chest of every Palestinian."

[Official Facebook page of Ramallah & Al-Bireh Governorate,