PLO and Fatah in Lebanon hold rally for terrorist "Martyr" Dalal Mughrabi, who "taught the Israeli enemy a lesson in heroism"
Headline
: "The PLO and Fatah held a political rally on the 48th anniversary of the Al-Karameh battle"
"The PLO and Fatah's Sidon (i.e., city in Lebanon) branch held a political rally on the 48th anniversary of the heroic Al-Karameh battle and on the 38th anniversary of the Martyr (Shahid) Kamal Adwan operation (i.e., terror attack, 37 murdered), and the death as a Martyr of the self-sacrificing fighter (
Fida'iya
) Dalal Mughrabi and her companions on the land of Palestine…
Bassam Kojak, member of the Amal Movement's (i.e., a Lebanese political party associated with Lebanon's Shia community) political bureau and the representative of its chairman Nabih Berri, said in a speech he gave on behalf of the national and Islamic political parties and powers in Lebanon: '…We salute the Palestinian woman on International Women's Day and Martyr Dalal Day, who succeeded in establishing the state of Palestine on the seashore between Haifa and Jaffa…'
Secretary of Fatah's Lebanon branch committee Rifat Shanaah gave a speech on behalf of the PLO and Fatah, saying: 'Welcome, brothers from all Lebanese and Palestinian political, national and Islamic parties and powers. Today we are celebrating the month of March, the month of heroism and sacrifice, the month of self-sacrifice and giving. In March, the Dir Yassin operation of Martyr Kamal Adwan's squad, led by the self-sacrificing fighter Dalal Mughrabi and her companions, took place on the land of Palestine. They taught the Israeli enemy a lesson in heroism, and she and a few of them died as Martyrs, while two others were taken captive.'"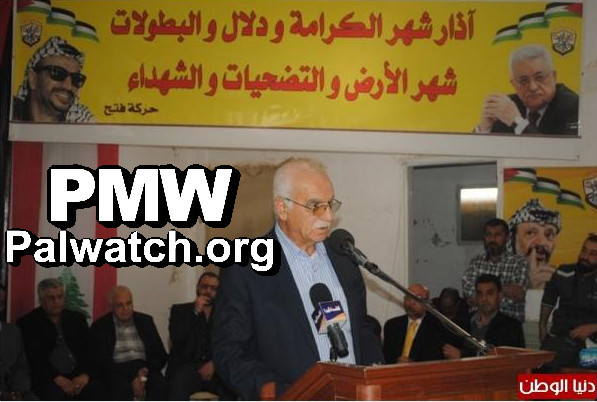 Text in yellow banner
: "March – the month of Al-Karameh, Dalal, and heroic acts, the month of land, sacrifice, and Martyrs"
Dalal Mughrabi led the most lethal terror attack in Israel's history, known as the Coastal Road massacre, in 1978, when she and other Fatah terrorists hijacked a bus on Israel's Coastal Highway, killing 37 civilians, 12 of them children, and wounding over 70.

The Karameh battle, or Al-Karameh - On March 21, 1968, Israeli army forces attacked the town of Karameh in Jordan, where Fatah terrorists had been launching attacks on Israel. Although Israel prevailed militarily, Arafat used the event for propaganda purposes, declaring the battle a great victory that erased the disgrace of the 1967 Six Day War defeat.