Director of PLO Commission of Prisoners' Affairs: Murderer of 15 was "great fighter," monument in his honor is "sign of loyalty and love"
Official PA TV program
Palestine This Morning
, on the unveiling of a monument for Palestinian terrorist Abu Sukkar in Turmus Ayya, hosting Director of PLO Commission of Prisoners' Affairs Issa Karake
Director of PLO Commission of Prisoners' Affairs Issa Karake:
"On the third anniversary of the Martyrdom (
Istish'had
) of the
great fighter Ahmad Abu Sukkar
(i.e., terrorist, murdered 15), indeed,
a monument to Abu Sukkar was built
at the place of his birth in Turmus Ayya. This is an
expression of the loyalty and love of the Palestinian people for all the prisoners, both the Martyr prisoners
who died after a long struggle
like fighter prisoner Abu Sukkar, as well as the prisoners living in the prisons, Abu Sukkar's comrades
, some of whom have been in the occupation's prisons for more than 35 years, like Nael (likely Nael Salhab, terrorist serving 30 years for his part in a murder –Ed.), Karim [Younes], Maher [Younes] (murdered one –Ed.), Lina [Al-Jarbouni] (aided terror organization –Ed.), and dozens of other veteran prisoners.
This is also a response to the attempts of Israel and of the
Israeli government to define the struggle
of the Palestinian people as a crime, and to charge the prisoners as terrorists and criminals. By establishing this monument we are saying in this mass ceremony that the prisoners are freedom prisoners. These are prisoners who struggled and sacrificed for the dignity and the freedom of this land. They are legitimate fighters and not criminals and terrorists. The occupation government is the mistress of terror in this region, and it is the criminal that violates the rights of our Palestinian people and uses murder and all forms of oppression against the Palestinian people."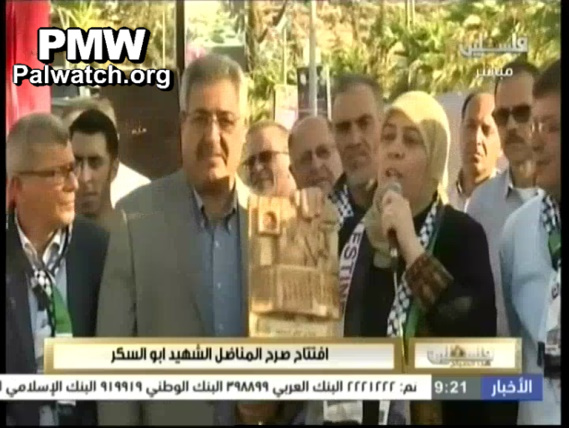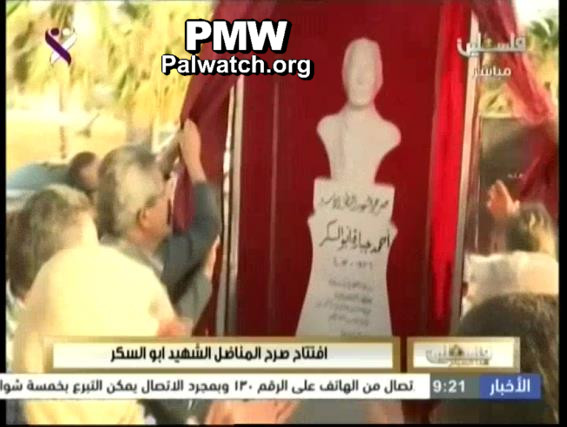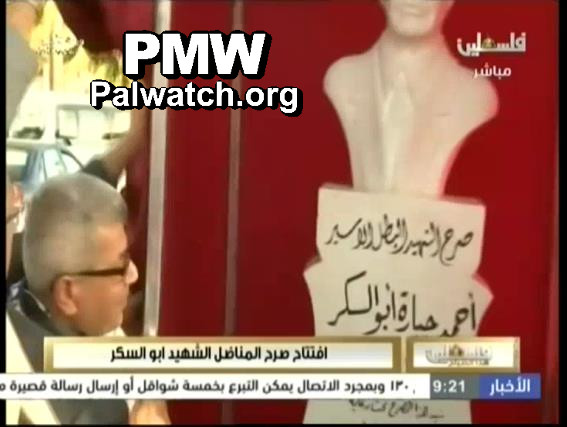 Ahmad Jabarah Abu Sukkar - planned a bombing attack in 1975 in which a refrigerator filled with explosives was detonated in Jerusalem. 15 people were killed and over 60 people were wounded. He was sentenced to life in prison plus 30 years, but was released from prison after 28 years as part of a goodwill gesture from Israel to the PA in 2003. He was a member of the Fatah Revolutionary Council and an advisor to Arafat on prisoners' affairs. He died of a heart attack in 2013 in the PA.

Nael Salhab - serving 30 years in prison for his participation in the kidnapping and murder of Israeli soldier Yaron Chen on Aug. 5, 1993.

Karim Younes - an Israeli Arab serving a 40-year sentence for kidnapping and killing Israeli soldier Avraham Bromberg in 1980 together with his cousin Maher Younes. Originally sentenced to life in prison, but Israeli President Shimon Peres reduced his sentence in 2012.

Maher Younes - an Israeli Arab serving a 40-year sentence for kidnapping and killing an Israeli soldier in 1980 together with his cousin Karim Younes. Originally sentenced to life in prison, but Israeli President Shimon Peres reduced his sentence in 2012.

Lina Al-Jarbouni - An Israeli Arab woman serving a sentence of 17 years, convicted March 9, 2004 of maintaining contact with and helping Islamic Jihad terrorists, of conspiring to commit terrorist attacks and of aiding an enemy during war.


» View analysis citing this item