Starting in the Middle Ages, Jews have been accused of murdering children for ritual purposes, of poisoning wells, and more. Palestinians regularly renew the child-killing libel, claiming Israel deliberately murders Palestinian children.

Here is a new example from Abbas' Fatah Movement in Lebanon: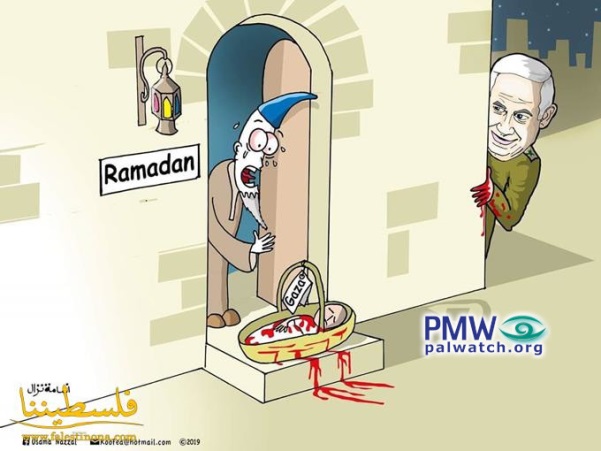 [Falestinona, website of Fatah's Information and Culture Commission in Lebanon, May 6, 2019]

In the cartoon, Israeli Prime Minister Benjamin Netanyahu is shown with a bloody hand, smiling over a presumably dead Palestinian infant from Gaza that has blood dripping from it. Netanyahu murdered the baby, leaving it for the Palestinian Muslim family (symbolized by the man's crescent head) for the month of Ramadan.
Palestinian Media Watch has exposed other examples of Palestinian blood libels. In 2016, the PA revived the medieval blood libel that Jews are poisoning the wells, claiming that an Israeli rabbi had "issued a ruling" that permitted "settlers" to "poison the drinking water and the natural wells in the [Palestinian] villages and towns throughout the West Bank." [Official PA TV News, June 20, 2016] PA chairman Abbas then repeated this libel to the EU, stating that Israel had poisoned Palestinian water sources in order to "mass murder" Palestinians. Abbas was later forced to retract this.
In 2015, a teacher at the Al-Aqsa Mosque taught the medieval blood libel that Jews use the blood of non-Jewish children to make Passover matzah bread. After PMW's exposure, Sheikh Khaled Al-Mughrabi defended his libel. However, following PMW's official complaint to the Israeli police over Al-Mughrabi's Antisemitism and incitement to murder, he was arrested and sentenced to 11 months' imprisonment.