What do recycling, first aid, and terrorist murderers have in common?
What could recycling, first aid, and terrorist murderers possibly have in common? Nothing, right?

But in the Palestinian Authority they are related - because they are all part of the program taught to kids at the PLO summer camps.

In a video posted by the PLO Supreme Council for Sport and Youth Affairs - an institution that arranges and runs summer camps in the PA - Palestinian kids explain what they learned at one such camp.

Young girls and boys describe that they have learned about recycling, first aid, and that sports help to keep a healthy lifestyle. But in between these positive educational messages, the kids were also taught that the Palestinians are "one hand against the enemies," and that two terrorist murderers - Abu Jihad and Dalal Mughrabi - are among their leaders.

Significantly, one girl singled out these two killers who were involved the most lethal attack in Israel's history - the Coastal Road massacre planned by Abu Jihad and carried out by Dalal Mughrabi - in which 37 Israeli civilians were murdered, among them 12 children. This is not surprising because both have been turned into role models for society by the PA, as documented by Palestinian Media Watch.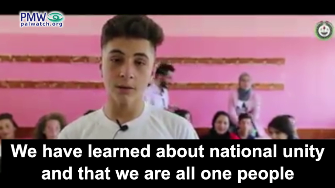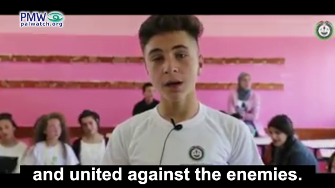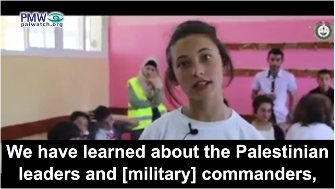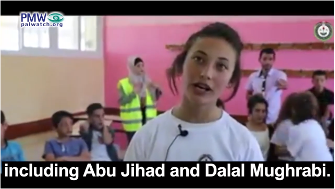 Girl: "At camp I learned about recycling, to use old things and turn them into new things..."

Boy: "At camp I learned about first aid, so that if an accident will happen or if there is an emergency at home I will be able to fulfill my obligation."

Boy: "We have learned about national unity and that we are all one people and united against the enemies."

Girl: "I learned from the camp that sport is a central thing in life, and that it maintains physical fitness..."

Girl: "We learned about [national] affiliation and about love of the homeland. I am part of it and it is part of me."

Girl: "We have learned about the Palestinian leaders and [military] commanders, including Abu Jihad and Dalal Mughrabi."

Posted text on Facebook page: "What we have learned from the summer camps, according to the campers"

Facebook page of the PLO Supreme Council for Sport and Youth Affairs, July 13, 2019
At a camp named "I am a Palestinian," a poster on a wall shows a list with the names of 10 prominent Palestinians on it. Among presidents and poets are several terrorist murderers, including Dalal Mughrabi and Hamas founder Ahmed Yassin: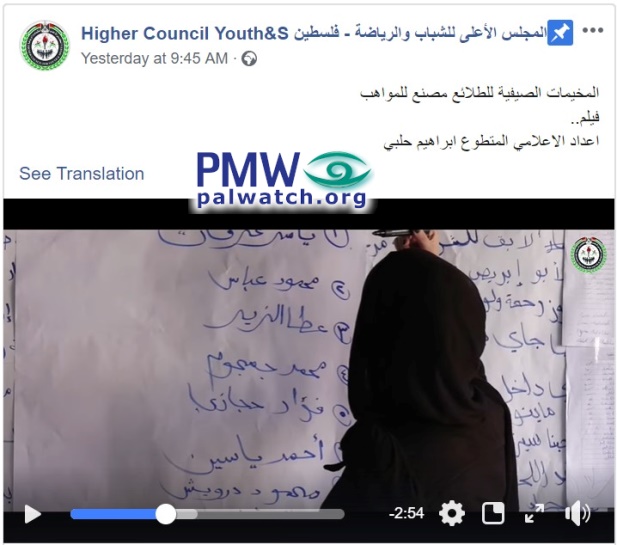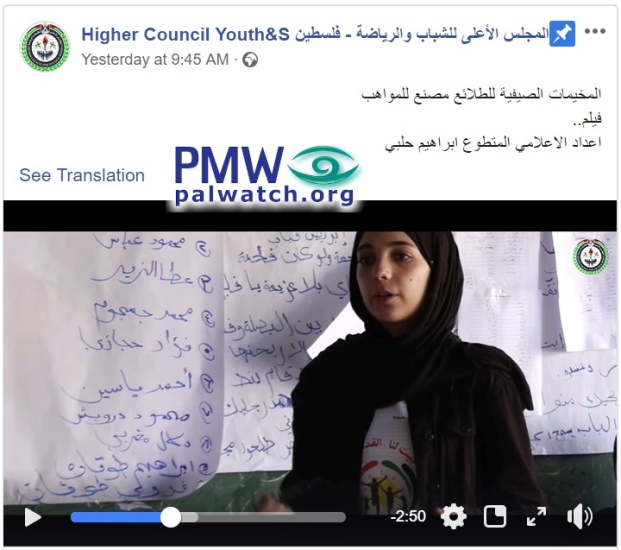 Names on poster:
1. [Former PLO Chairman and PA President] Yasser Arafat
2. [PA President] Mahmoud Abbas
3. Atta Al-Zir
4. Muhammad Jamjoum
5. Fuad Hijazi (Al-Zir, Jamjoum, and Hijazi were murderers from the 1929 Hebron Massacre and accompanying riots -Ed.)
6. Ahmed Yassin (i.e., founder of the Hamas terror organization)
7. Mahmoud Darwish (i.e., Palestinian poet)
8. Dalal Mughrabi(i.e., terrorist who led murder of 37, 12 of them children)
9. Ibrahim Touqan (i.e., Palestinian poet)
10. Fadwa Touqan (i.e., Palestinian poet)

Posted text: "The summer camps are a factory for talent."

Facebook page of the PLO Supreme Council for Sport and Youth Affairs, July 14, 2019
PMW has exposed several PLO and Fatah summer camps in the last few days that have venerated terrorists and glorified murderers, including two summer camps named after terrorist murderer Dalal Mughrabi and one named after the murderer of 2, Omar Abu Laila.

Coastal Road Massacre - In March 1978, a group of Fatah terrorists from Lebanon led by Dalal Mughrabi hijacked a bus on Israel's Coastal Highway. Confronted by the Israeli army, the terrorists murdered many of the passengers on the bus, in total 37 civilians,12 of them children, and wounded more than 70. The attack, orchestrated by arch-terrorist Abu Jihad (Khalil Al-Wazir), is known in Israel as the Coastal Road Massacre.

Yasser Arafat – Founder of Fatah and former chairman of the PLO and PA. During the 1960s, 70s and 80s Arafat was behind numerous terror attacks against Israelis. Although he received the Nobel Peace Prize in 1994 together with then Israeli Prime Minister Yitzhak Rabin and then Israeli Minister of Foreign Affairs Shimon Peres "for their efforts to create peace in the Middle East" after signing the Oslo Accords peace agreement, Arafat launched a 5-year terror campaign - the second Intifada (2000-2005) – in which more than 1,000 Israelis were murdered. Arafat died of an illness in 2004.

Muhammad Jamjoum, Fuad Hijazi, and Ataa Al-Zir "committed particularly brutal murders [of Jews] at Safed and Hebron," according to the report by British Government to the League of Nations. They were convicted of attacking British soldiers and murdering Jews in the 1929 Hebron Massacre, in which 65 Jews were murdered. They were executed by the British in 1930.

Ahmed Yassin - Founder and former head of the terrorist organization Hamas. The Hamas movement is responsible for numerous terror attacks and the deaths of hundreds of Israeli civilians.
Mahmoud Darwish is considered the Palestinian national poet. He published over 30 volumes of poetry and 8 books of prose and has won numerous awards. He joined the Israeli Communist Party in 1961 and the terrorist organization PLO in 1973, becoming a member of the PLO Executive Committee in 1987. He left the PLO in 1993 because it signed the Oslo Accords with Israel. Many in Israel see his poetry as inciting hate and violence. One poem he wrote in 1988 at the height of the Palestinian wave of violence and terror against Israel in which approximately 200 Israelis were murdered (the first Intifada, 1987-1993) calls to Israelis: "Take your portion of our blood - and be gone… Live wherever you like, but do not live among us… Die wherever you like, but do not die among us… Leave our country, our land, our sea, our wheat, our salt, our wounds, everything, and leave the memories of memory." In 1964, he wrote a poem entitled "ID Card" in which he said: "I do not hate people, And I do not steal from anyone, But if I starve I will eat my oppressors' flesh; Beware, beware of my starving, And my rage." He also wrote "Silence for the Sake of Gaza" in 1973, which many see as glorifying terror: "She wraps explosives around her waist and blows herself up. It is not a death, and not a suicide. It is Gaza's way of declaring she is worthy of life." His defenders have claimed that Israel misinterprets his poetry and that he sought reconciliation with Israel. One wrote in 2017: "Darwish arranged meetings between Palestinian and Israeli intellectuals, and published essays on their discussions. He was optimistic that, through mutual understanding, the two sides could eventually reconcile." [https://www.bcalnoor.org/]