Fatah: "We will defend Palestine with [our] blood and souls," "The deal of the century will not pass"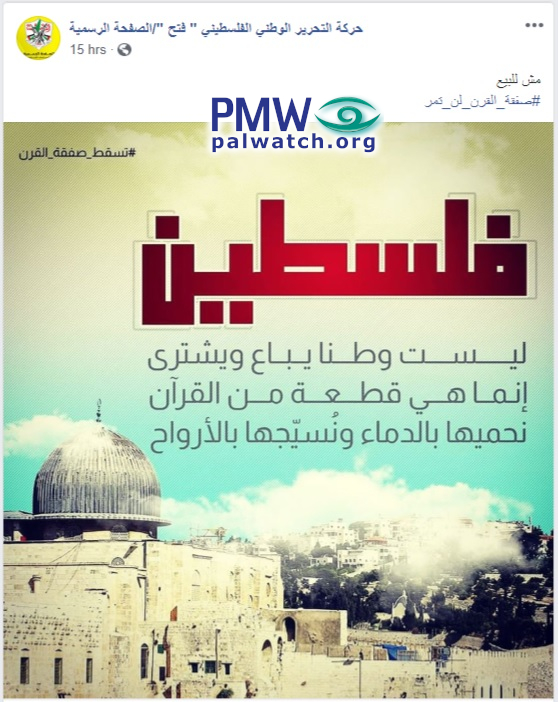 Abbas' Fatah has responded vocally to US President Trump's peace plan – "the deal of the century" – adamantly rejecting it and even implying Palestinians should engage in violence and "defend Palestine with their blood and souls." The image above of the Dome of the Rock appeared in a post with the following text:
Posted text: "Not for sale
#The_deal_of_the_century_will_not_pass"

Text on image: "#Down_with_the_deal_of_the_century
Palestine
Is not a homeland that is sold and purchased
But rather a piece of the Quran
that we will defend with [our] blood and souls"

[Official Fatah Facebook page, Jan. 30, 2020]
Fatah also emphasized its ideology that it won't give up any part of "Palestine" – a "Palestine" in which all of Israel is included. Abbas, as chairman of both the Palestinian Authority and Fatah, may assert that the Palestinians are only interested in a "Palestine" on the 1967 borders with East Jerusalem as its capital, but the messages from his own Fatah contradict this.
The image below shows that Fatah intends for "Palestine" to include all of Israel, and the accompanying text stresses this further. A man with a keffiyeh (Arab headdress) is lying on the PA map of "Palestine" that presents all of Israel as "Palestine" together with the PA areas. The man is covering the entire map with his body - from the Jordan River to the Mediterranean Sea – which rejects the existence of Israel in any borders. One of the man's legs is crossed over the other, showing the sole of his sandal on which is written: "The deal of the century" – referring to US President Donald Trump's Middle East peace plan, which he revealed together with Israeli Prime Minister Benjamin Netanyahu on Jan. 28, 2020. In Arab culture showing someone the sole of your shoe is considered an insult and scorn.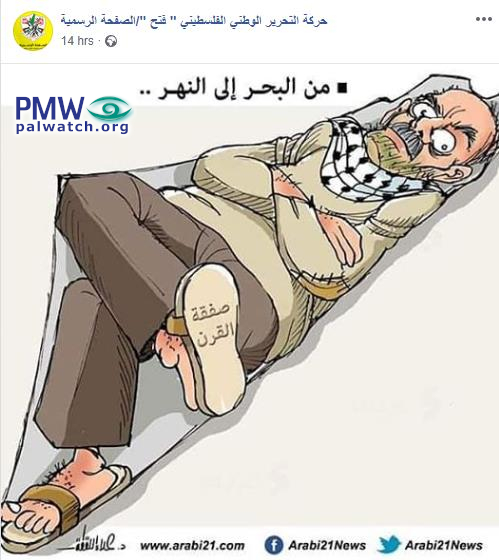 Text at top of cartoon: "From the [Mediterranean] Sea to the [Jordan] River"

[Official Fatah Facebook page, Jan. 30, 2020]
Palestinian Media Watch has documented that PA and Fatah leaders often use the expression "From the Sea to the River" to describe "Palestine" and deny Israel's right to exist.
Fatah also posted a cartoon reiterating Abbas' statement after Trump's announcement of the deal, calling for Fatah and Hamas to unite. The cartoon shows from left to right Hamas Political Bureau Chairman Ismail Haniyeh, Abbas, Islamic Jihad Movement leader Khaled Al-Batsh, and other Arab figures with their arms interlocked standing in a protective circle around the PA map of "Palestine." On the map is written "Palestine" in English above the Dome of the Rock with a Palestinian flag flying over it.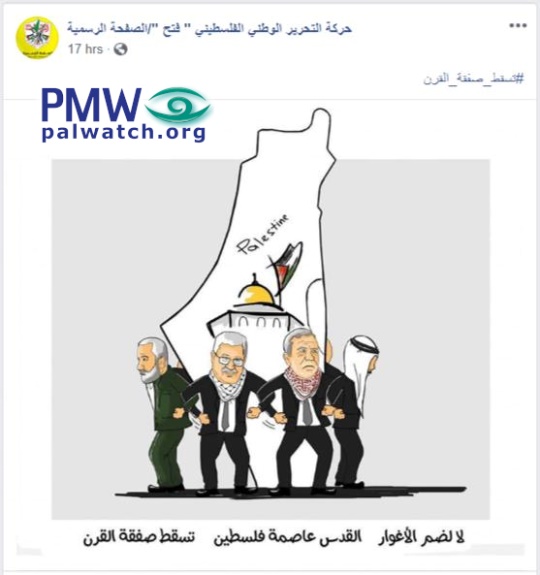 Posted text: "#Down_with_the_deal_of_the_century"
Text at bottom of cartoon: "No to [Israeli] annexation of the Jordan Valley; Jerusalem is the capital of Palestine; down with the deal of the century"

[Official Fatah Facebook page, Jan. 30, 2020]
A cartoon in the official PA daily similarly implied such a union against Israel and the US and the peace plan: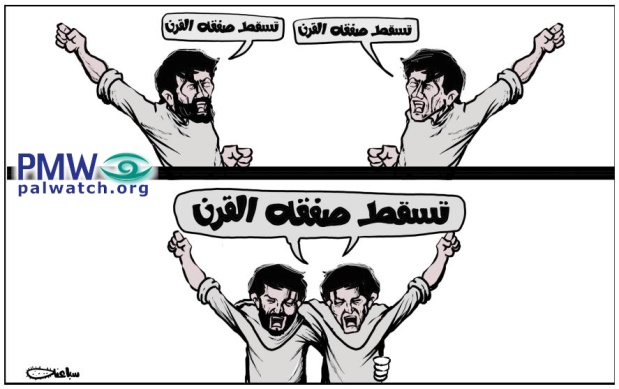 [Official PA daily Al-Hayat Al-Jadida, Feb. 1, 2020]
The top panel of the cartoon shows two men, possibly indicating Fatah and Hamas (the bearded man), raising their fists and saying separately: "Down with the deal of the century," referring to Trump's Middle East peace plan. The bottom panel shows the two men with their fists still raised and their other arms around each other, saying together: "Down with the deal of the century."
As PMW has demonstrated numerous times, PA school children are also taught that all of Israel is "Palestine," and this ideology was expressed by school children who formed the shape of the PA map of "Palestine." In the middle of the map is a Palestinian flag indicating full Palestinian sovereignty over the entire area: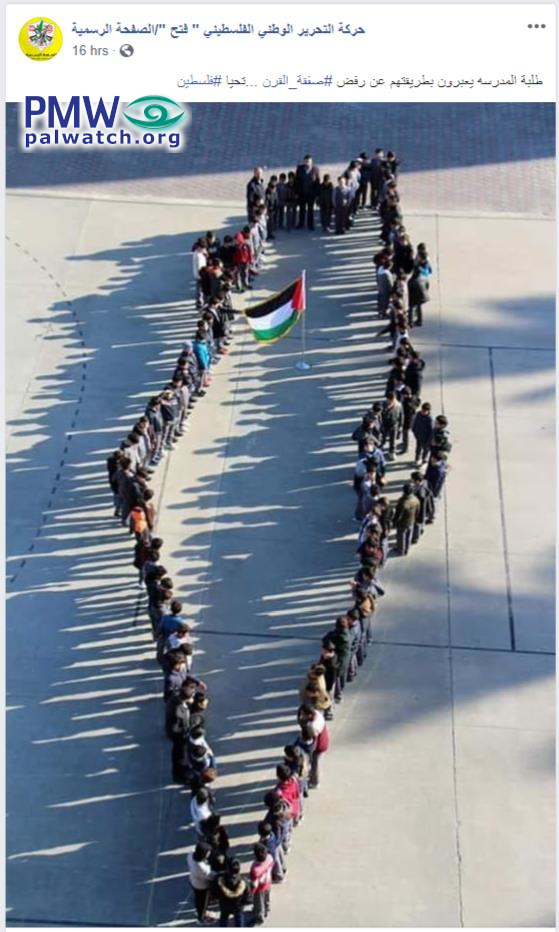 Posted text: "The school students express the rejection of the deal of the century in the street. Long live Palestine."

[Official Fatah Facebook page, Jan. 30, 2020]