Terrorist murderers are Palestinians' "honor" and "crown" says senior Fatah official
Nan Jacques Zilberdik and Itamar Marcus
|
Female murderer who led killing of 37 - among them 12 children - and female terrorist who placed a bomb in a movie theater are role models for Palestinian women
Terrorist murderers continue to be the role models of Abbas' Fatah Movement. Senior Fatah official Tawfiq Tirawi stressed this ideology in a recent speech when he singled out three Palestinian terror leaders as "a crown on all of our heads":
Arch-terrorist Abu Jihad who was responsible for the murder of at least 125 Israelis;

Terrorist Abu Iyad who headed the terror organization Black September and planned the murder of 11 Israeli athletes at the Munich Olympics in 1972;

Terrorist Abu Ali Iyad who was head of Fatah's military operations in 1966 and responsible for several terror attacks
Fatah Commissioner and Central Committee member Tawfiq Tirawi: "They want us to renounce Abu Jihad, Abu Iyad, and Abu Ali Iyad? How? These are Martyrs! They are the head of our cause. They are our honor and they are our crown, these same Martyrs and prisoners! They are a crown on all of our heads! We will not renounce any one of them!"

[Facebook page of Fatah Central Committee member Tawfiq Tirawi, Feb. 2, 2020]
In the same speech, Tirawi singled out two female terrorists as role models for Palestinain women:
Dalal Mughrabi who led the murder of 37 Israelis, among them 12 children

Fatima Barnawi who placed a bomb in an Israeli movie theater
Tirawi: "The Palestinian women, with their history of struggle, and as half of society, have a central role alongside their brothers, the men. Remember Fatima Barnawi – the first female Palestinian prisoner (i.e., terrorist, placed bomb in theater). Remember Dalal Mughrabi (i.e., terrorist who led murder of 37, 12 of them children). Remember Intisar Al-Wazir 'Um Jihad' (i.e., widow of arch-terrorist Abu Jihad Khalil Al-Wazir, responsible for murder of 125). Remember that all of you are female fighters on the ground, at home, and everywhere."
Similarly to Tirawi, a Fatah leader in Gaza described terrorists who were killed while attacking Israelis as "the crown on the head of the Palestinian revolution":
Fatah leader in the Gaza Strip Jamal Obeid: "On this day, Palestinian Martyrs' Day, the Fatah Movement emphasizes its loyalty to all the Martyrs who ascended to Heaven in defense of the Palestinian cause… This is an eternal day in the days of the Palestinian people, on which Fatah emphasizes its national and moral obligation towards the cause of the Martyrs, who for us as Palestinians constituted and still constitute the crown on the head of the Palestinian revolution."

[Official PA TV, Palestine This Morning, Jan. 9, 2020]
Palestinian Media Watch exposed that senior PA official Jibril Rajoub also used the term "a crown on our heads" about Palestinian murderers of Israelis when he "blessed and encouraged" them to continue their terror wave in January 2016: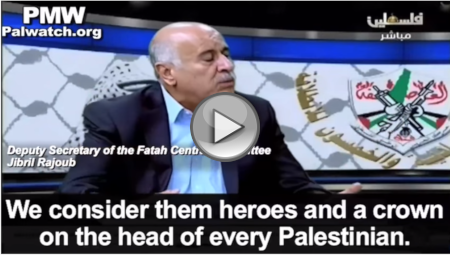 In his recent speech, Fatah official Tirawi also emphasized Fatah's ideology that all of Israel is part of "Palestine" – "from the river to the sea," and instructed PA Security Forces "not to pursue" Palestinian terrorists, but to target "collaborators" with Israel and "real estate agents" selling land to Jews.
Posted text with Tirawi's speech: "A speech condemning the deal of the century given by [Fatah Central Committee member] brother Tawfiq Tirawi during a meeting with the [Fatah] Movement associations and bureaus, Jan. 30, 2020"
Tawfiq Tirawi also holds the position of Fatah Commissioner of Popular Organizations.

Abu Jihad (Khalil Al-Wazir) - was a founder of Fatah and deputy to Yasser Arafat. He headed the PLO terror organization's military wing and also planned many deadly Fatah terror attacks in the 1960's - 1980's. These attacks, in which a total of 125 Israelis were murdered, included the most lethal in Israeli history - the hijacking of a bus and murder of 37 civilians, 12 of them children.
Abu Iyad (Salah Khalaf) - PLO Chairman Yasser Arafat's deputy, one of the founders of Fatah, and head of the terror organization Black September, a secret branch of Fatah. Attacks he planned include the murder of 11 Israeli athletes at the Munich Olympics (Sept. 5, 1972) and the murder of two American diplomats in Sudan (March 1, 1973). It is commonly assumed that his assassin, a former Fatah bodyguard, was sent by the Abu Nidal Organization, a rival Palestinian faction.
Abu Ali Iyad was appointed head of Fatah military operations in 1966 and was responsible for several terror attacks. The attacks included a bombing in the town of Beit Yosef in northern Israel on April 25, 1966 (injuring 3 people), and placing bombs in the town of Margaliot in northern Israel on July 19, 1966. He was killed in 1971 in Jordan by the Jordanian army when it forced Fatah members out of the country.

Fatima Barnawi - Palestinian female terrorist who placed a bomb in a movie theater in Jerusalem in 1967. The bomb failed to explode. She was sentenced to life in prison but was released in 1977 after serving 10 years. In 2015, PA Chairman Mahmoud Abbas honored Barnawi with the Military Star of Honor.
Dalal Mughrabi – female Palestinian terrorist who led the most lethal terror attack in Israel's history, known as the Coastal Road massacre, in 1978, when she and other Fatah terrorists hijacked a bus on Israel's Coastal Highway, murdering 37 civilians, 12 of them children, and wounding over 70.
Intisar Al-Wazir '(Um Jihad)' - wife of Abu Jihad, Chairwoman of the PLO Families of the Martyrs and Wounded Institution.