PA demonization: One Israeli racist means all Israelis are racists
PA libel: Israelis dehumanize Palestinians so they can murder them without guilt
One Israeli's racist comment served a host on official PA TV and a Palestinian sociologist as spring board to spread their own anti-Israel hate-speech and demonize Israelis and Jews.
When a video recently surfaced of an Israeli children's entertainer, "Roy Boy," handing cookies to Bedouin children but asking his children: "Who wants to feed a Bedouin?" as if they were zoo animals, it was met with sharp criticism and condemned by Israeli society. Israeli MPs left and right expressed their outrage, while a TV station announced they would not film the coming season of his show.
Meanwhile in the PA, the incident provided official PA TV and a Palestinian sociologist with an opportunity to demonize all Israelis. The TV host asserted that Roy Boy's attitude isn't just his "individual position" but rather a "collective position in Israel." The sociologist and Palestinian-Israeli studies expert, Dr. Zuheir Al-Sabbagh, willingly confirmed this allegation. He explained that Israelis "dehumanize" Palestinians so they can murder them without feeling guilty about it:
Official PA TV host: "This [racist comment] isn't individual behavior or an individual position, but rather a collective position in Israel and a mentality with a strong presence today in the Israelis' behavior."

Sociologist and Palestinian-Israeli studies expert Dr. Zuheir Al-Sabbagh: "I agree with that diagnosis. It doesn't just represent this Israeli actor [Roy Boy]. It represents the racist culture and education that the settlers grow up on… The goal is to dehumanize the other in order to legitimize attacking him."

[Official PA TV, Israel in the News, July 14, 2020]
Delegitimizing all Israelis as "settlers" and "colonialists" who set out to "kill Palestinians," Dr. Al-Sabbagh illustrated his claim by fabricating examples of the alleged Israeli "dehumanization" to make murdering Palestinians easier:
Dr. Al-Sabbagh: "When I as a colonialist come to kill a Palestinian, I'm actually not killing a human being but rather I'm killing a wolf, a snake, a rat, lice, and other racist descriptions. Now this makes it easier for the settler and gives him a feeling that he hasn't killed a person, and therefore he won't feel guilt. This dehumanization plays a role: To legitimize attacking the other, to legitimize expropriating his lands, to legitimize destroying his home, to legitimize murdering him, to legitimize torturing him…"
What is striking about the sociologist's examples is that it is a clear case of projection: What he falsely claimed as Israeli dehumanization of Palestinians are actually Palestinian dehumanization of Israelis. The following cartoons exposed by Palestinian Media Watch were published in official PA and Fatah media portraying Israelis as wolves, snakes, rats, scorpions and worms: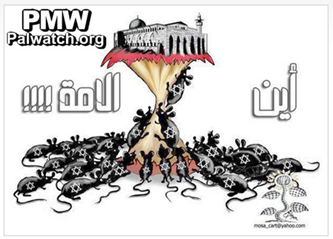 [Fatah's Information, Culture, and Ideology Commission website, Nov. 16, 2014]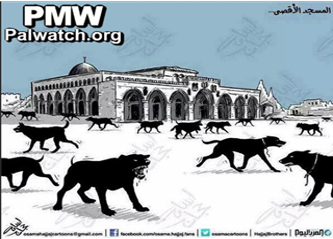 Text: "Arabs, the wolves surround your Al-Aqsa [Mosque]! What are you going to do about it?"
[Fatah - The Main Page, Facebook | Oct 19, 2014]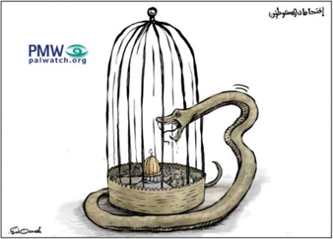 [Official PA daily Al-Hayat Al-Jadida, Aug. 25, 2019]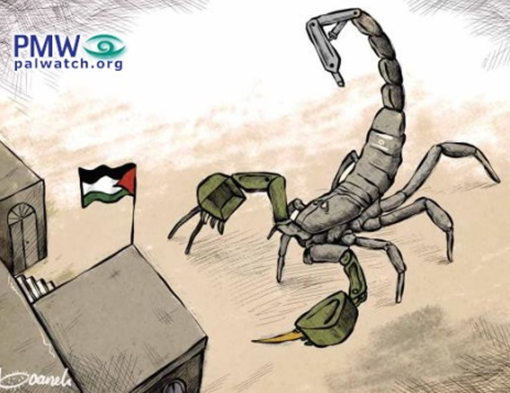 [Official PA daily Al-Hayat Al-Jadida, Oct. 30, Dec. 18, 2019]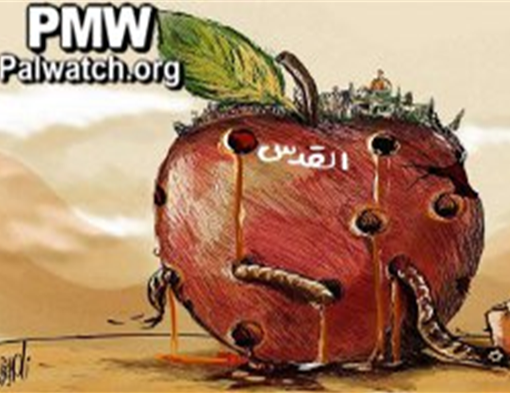 Text on apple: "Jerusalem" Text on TV: "The Arab Spring"
[Al-Quds, Palestinian daily, Aug. 29, 2012]
After projecting Palestinian attitudes onto Israelis, Dr. Al-Sabbagh expanded his theory of the alleged inherent racism in Israeli nature, saying it predates the State of Israel and applies to non-Zionist Jews as well:
"The racism in Israel is structural. It's not accidental or momentary, but rather structural. It's part of the settler-colonialist structure. It also doesn't only relate to the Zionist settlement and colonialism. Even before this, when there was Jewish non-Zionist settlement, there was racism."

[Official PA TV, Israel in the News, July 14, 2020]
During the interview, PA TV emphasized its conclusions with the following text showing on screen:
"'Roy Boy' – racism of a lone person or structural collective fascism?"
Note: The video of the Israeli children's entertainer "Roy Boy" shows Roy Oz during a private family trip asking his daughters: "Who wants to feed a Bedouin?" when they come across two Bedouin children. Roy Boy repeatedly encourages his own children to "feed" the Bedouins through the car window and give them cookies. As noted above, Roy Boy's racist remarks, which became known in July 2020, were widely condemned in Israel, and the filming of the next season of his TV program was stopped.
The following is a longer excerpt of the PA TV interview with the Palestinian sociologist:
Text on screen: "'Roy Boy' – racism of a lone person or structural collective fascism?"