Leading Arab newspaper credits PMW for fighting PA terror for "more than 30 years"
Saudi owned Asharq Al-Awsat:
"The campaign was launched by a right-wing Israeli organization "Palestinian Media Watch"…[which] has been working for more than 30 years against the PLO and the Palestinian Authority, claiming that they are running anti-Jewish policies, approaches and practices that support terrorism."

"PMW played a central role in the campaign against paying salaries to Palestinian detainees serving sentences in Israeli prisons, as well as to the families of the deceased."
Asharq Al-Awsat, a Saudi owned news outlet that is known for being a leading Arab daily newspaper, published an article describing the work of Palestinian Media Watch. In the article, special attention was given to PMW's central role in the new initiative to have the Palestinian Authority funded Commission for Prisoners' Affairs designated by the US administration as a "sponsor of terror," and designated by the Israeli government as a "terror organization".
The article cites PMW's report which was adopted by Congressman Doug Lamborn in his letter to President Trump, recommending that the PA Head of the Prisoners' Commission Qadri Abu Bakr and the Commission itself be designated as "sponsor of terror" in accordance with Executive Order 13224.
Following Lamborn's letter, a number of MK's similarly wrote to Israeli Defense Minister, Benjamin Gantz, calling on him to declare the Commission a terror organization.
Partnering PMW in the new campaign is the Middle East Forum.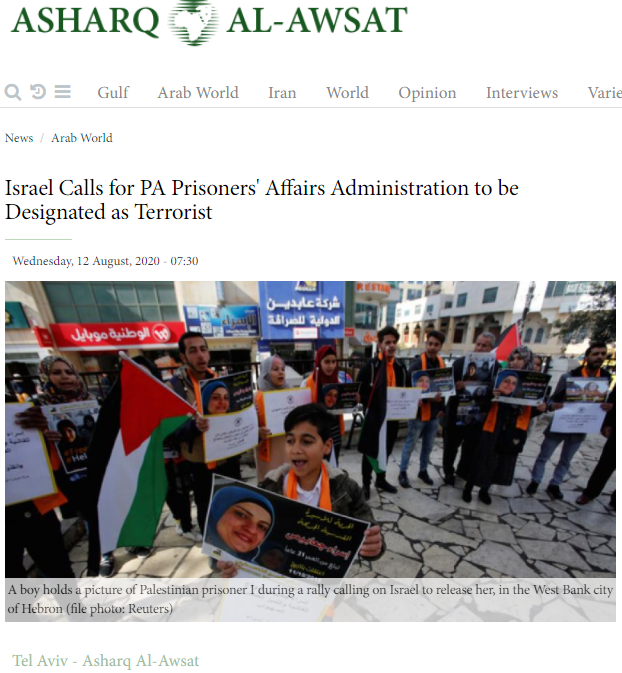 "A number of political right-wing figures in Israel and the US are pressuring both the US administration and the Israeli government to declare the Palestinian Commission of Detainees Affairs a terrorist organization.

The campaign was launched by a right-wing Israeli organization "Palestinian Media Watch" which sent direct messages to US President Donald Trump, Israeli Prime Minister Benjamin Netanyahu and Defense Minister Benny Gantz.

The organization has been working for more than 30 years against the Palestinian Liberation Organization and the Palestinian Authority (PA), claiming that they are running anti-Jewish policies, approaches and practices that support terrorism.

It played a central role in the campaign against paying salaries to Palestinian detainees serving sentences in Israeli prisons, as well as to the families of the deceased.

The Israeli government adopted this approach earlier and decided to deduct the salaries from Palestinian tax funds, which led to crisis between the Israeli government and the PA, after which the Palestinian Finance Ministry refused to receive the remaining amount.

The campaign was led by the US Republican Congressman, Doug Lamborn, who is the head of the Israeli lobby in the Congress.

In a letter to Trump on Thursday, Lamborn called for designating the commission and its director Qadri Abu Bakr, as "sponsors of terror" because of their direct involvement in providing monthly payments to prisoners and their families.

In turn, a group of the right-wing and center Knesset members sent a similar letter to Netanyahu and Gantz, saying: "It should not be, that while other nations around the world, especially our friend the United States, are making efforts to eradicate this phenomenon of terror payments, Israel will continue to keep quiet."

The letter was signed by MKs: Matan Kahana of Yamina party, Oded Forer of Yisrael Beiteinu and Elazar Stern of Yesh Atid-Telem.

The parliamentarians said that they would put the issue on the Knesset's agenda soon, however, Netanyahu and Gantz did not comment on the matter."

[Asharq Al-Awsat, Aug. 12, 2020]