"The Zionist enemy" murdered Arafat by poisoning him with polonium – PA spreads the libel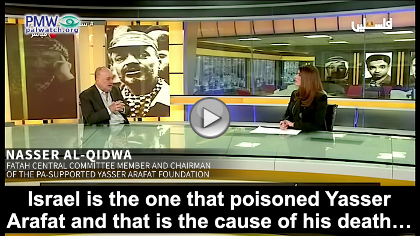 Despite the fact that forensic investigations by different countries concluded that Arafat did not die of poisoning (see details below), the PA disseminates the libel that their iconic leader Yasser Arafat was murdered by polonium poisoning by "the Zionist enemy."
During recent events marking the anniversary of Arafat's death, PA and Fatah officials repeated this libel:
Fatah Central Committee member and Chairman of the PA-supported Yasser Arafat Foundation Nasser Al-Qidwa:"Israel is the one that poisoned Yasser Arafat and that is the cause of his death… From the first moment, we as an organization and as the Palestinian leadership have said this death is not a natural death. This death is a political assassination that Israel decided to carry out. Afterwards we learned that the method of the political assassination was poison, and specifically polonium-210."

[Official PA TV, Nov. 9, 2020]
While Arafat died of an illness in France in 2004, the PA created the libel that Israel murdered him. In 2012, samples were taken from Arafat's remains and tested for poisoning by Swiss, Russian, and French teams of scientists. (See further details below.) In March 2015, three French judges ruled that "it has not been demonstrated that Mr. Yasser Arafat was murdered by polonium-210 poisoning." The French prosecutor stated that there was "not sufficient evidence of an intervention by a third party who could have attempted to take his life." [France 24, Sept. 2, 2015] The French prosecutor also explained that the polonium and lead found in Arafat's grave were "of an environmental nature." [Jerusalem Post, March 17, 2015].
Despite these results, the PA continues to disseminate the lie that Israel is responsible for Arafat's death. Palestinian Media Watch has exposed that the PA has brainwashed the population so successfully that even young children know and readily repeat the libel, and even write poems about it.
Al-Qidwa repeated the libel this year at several events:
Al-Qidwa: "I again say now, that Yasser Arafat's death was not a natural death, and that he apparently died of poisoning. We understood later on that the poison was polonium-210, and we said that Israel is the one that committed this crime and we must keep this case open until the criminals are punished…"

[Official PA TV, Nov. 10, 2020]
A member of the board of the PA-supported Yasser Arafat Foundation likewise accused "the Zionist enemy" of killing Arafat:
Deputy Chairman of the PA-supported Yasser Arafat Foundation's Board of Directors Mamdouh Al-Abadi: "The last stage [in Arafat's life] was Jerusalem, but the Zionist enemy killed him."

[Official PA TV, Nov. 10, 2020]
The libel was repeated at different ceremonies by other officials and in the official PA daily:
Jenin District Popular Refugee Committee Deputy Chairman Fida Turkeman: "We came… to mark the 16th anniversary of the death as a Martyr of Palestinian [PA] President Yasser Arafat… From here we hold the occupation state fully responsible for the death as a Martyr of Palestinian President Yasser Arafat."

[Official PA TV News, Nov. 10, 2020]
"[Arafat's] soul ascended [to Heaven] after a struggle between the veins and arteries in his body with the lethal poison of [former Israeli Prime Minister] Ariel Sharon."

[Op-ed in the official PA daily Al-Hayat Al-Jadida, Nov. 15, 2020]
The following are longer excerpts of the statements cited above:
Official PA TV News, on a ceremony in Jenin marking the 16th anniversary of the death of former PLO and PA Chairman Yasser Arafat
Jenin District Popular Refugee Committee Deputy Chairman Fida Turkeman: "We came here today [Nov. 10, 2020] to mark the 16th anniversary of the death as a Martyr of Palestinian [PA] President Yasser Arafat, and to mark the [Palestinian] declaration of independence [that was issued] in sister [state] Algeria. From here we hold the occupation state fully responsible for the death as a Martyr of Palestinian President Yasser Arafat."

[Official PA TV News, Nov. 10, 2020]
Official PA TV, live broadcast of a ceremony for the 16th anniversary of the death of former PLO and PA Chairman Yasser Arafat
Chairman of the PA-supported Yasser Arafat Foundation Nasser Al-Qidwa: "In conclusion, I must mention a basic point that the ceremony host raised regarding the murder of the Palestinian people's elected president. We have said time after time at the Yasser Arafat Foundation, and I again say now, that Yasser Arafat's death was not a natural death, and that he apparently died of poisoning. We knew later on that the poison was polonium-210, and we said that Israel is the one that committed this crime and we must keep this case open until the criminals are punished. May Allah have mercy on Yasser Arafat; may Allah have mercy on our great leaders [Khalil Al-Wazir] 'Abu Jihad' (i.e., terrorist, responsible for murder of 125), [Salah Khalaf] 'Abu Iyad' (i.e., head of Black September terror organization), and all our leaders. May Allah have mercy on [our] dear friend, [former PLO Executive Committee Secretary] leader Saeb Erekat; may Allah have mercy on all the Martyrs. Praise to the Martyrs, freedom to the brave prisoners, and healing to the wounded. Thank you."
…
Deputy Chairman of the PA-supported Yasser Arafat Foundation's Board of Directors Mamdouh Al-Abadi: "The last stage [in Arafat's life] was Jerusalem, but the Zionist enemy killed him."

[Official PA TV, Nov. 10, 2020]
Excerpt of an op-ed by Muwaffaq Matar, Fatah Revolutionary Council member and regular columnist for the official PA daily
"In our national diary, it is documented that on Nov. 11, 2004, the soul of the leader of the Palestinian National Liberation Movement ['Fatah'], the symbol of the Palestinian people's struggle, and the first [PA] president who was elected according to his people's will, [Yasser Arafat,] ascended [to Heaven]. His soul ascended [to Heaven] after a struggle between the veins and arteries in his body with the lethal poison of [former Israeli Prime Minister] Ariel Sharon (sic., the PA libel that Israel assassinated Arafat has been debunked by international medical teams; see note below)."

[Official PA daily Al-Hayat Al-Jadida, Nov. 15, 2020]
Yasser Arafat – Founder of the PLO and Fatah, former chairman of the PA. During the 1960s, 70s and 80s Arafat was behind numerous terror attacks against Israelis. Although he received the Nobel Peace Prize in 1994 together with then Israeli Prime Minister Yitzhak Rabin and then Israeli Minister of Foreign Affairs Shimon Peres "for their efforts to create peace in the Middle East" after signing the Oslo Accords peace agreement, Arafat launched a 5-year terror campaign - the second Intifada (2000-2005) – in which more than 1,000 Israelis were murdered. Arafat died of an illness in 2004. However, following his death, the PA created the libel that Israel murdered Arafat, and it has been spreading it since. In 2012, samples were taken from Arafat's remains and tested for poisoning by Swiss, Russian, and French teams of scientists. The Swiss team concluded that the tests were "coherent with a hypothesis of poisoning" - but a member of the team also stated that "our study did not permit us to demonstrate categorically the hypothesis of poisoning by polonium." The Russian scientists concluded that "there was insufficient evidence to support the theory that Yasser Arafat died in 2004 by polonium poisoning." [Reuters, Nov. 8, 2013] In March 2015, three French judges ruled that "it has not been demonstrated that Mr. Yasser Arafat was murdered by polonium-210 poisoning." The French prosecutor stated that there was "not sufficient evidence of an intervention by a third party who could have attempted to take his life." [France 24, Sept. 2, 2015] The French prosecutor also explained that the polonium and lead found in Arafat's grave were "of an environmental nature." [Jerusalem Post, March 17, 2015]. Despite these results, the PA continues to blame Israel for Arafat's death without any proof or backing for this claim. Links to the libel on PMW website: https://palwatch.org/database/10 https://palwatch.org/page/12313 https://palwatch.org/page/5505