‎"Those representing Palestine must be prepared to sacrifice blood" ‎ ‎– Fatah official
Fatah TV host presents murderers as the essence of Fatah

"With our skulls we will pave the path to victory, until the liberation of ‎Palestine" - Father of murderer echoes arch-terrorist Abu Jihad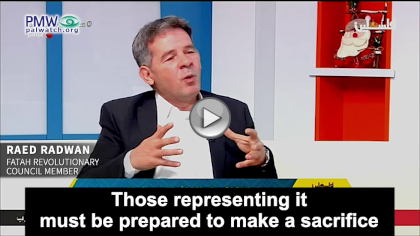 Fatah chooses the path of violence and encourages Palestinians to die as "Martyrs" for ‎‎"Palestine." That message was cemented by Fatah Revolutionary Council member ‎Raed Radwan, who stressed that Palestinians must be prepared "to sacrifice blood":‎
Fatah Revolutionary Council member Raed Radwan: "All the activities will be ‎directed towards popular resistance… Palestine is the center of the universe ‎religiously, politically, and even geographically… Those representing it must ‎be prepared to make a sacrifice and to sacrifice blood for the sake of this ‎cause. Therefore, these young people (i.e., founders of Fatah in 1965) who ‎believed in their cause and the certainty of their victory against this enemy (i.e., ‎Israel) succeeded… Fatah carried the rifle and succeeded in realizing a long ‎journey of giving adorned with blood, Martyrs, and prisoners. Therefore, ‎Fatah today has a mighty heritage of Martyrs and prisoners." ‎

[Official PA TV, Palestine This Morning, Dec. 28, 2020]‎
The PA has indoctrinated Palestinians with this message for decades. Therefore it is ‎not surprising to hear a Palestinian man – himself the father of a terrorist murderer – ‎paraphrase a statement attributed to arch-terrorist Abu Jihad that promotes death to ‎‎"liberate Palestine": ‎
Fatah member and father of terrorist murderer Anan Abu Habseh ‎Muhammad Abu Habseh: "Our heads will reach the sky and our feet will ‎continue to be planted in this good and pure land. With our skulls we will pave ‎the path to victory, until the liberation of Palestine."‎

[Official PA TV, Good Morning Jerusalem, Jan. 1, 2021]‎
According to the same ideology, a TV Host on Fatah's TV channel Awdah included ‎mass murderers and arch-terrorists responsible for dozens of murders of Israelis in her ‎description of the essence of the Fatah Movement: ‎
Fatah-run Awdah TV host: "[Fatah] is Yasser Arafat and Mahmoud Abbas. ‎Despite the difference in tone of speech and external appearance, it is Khalil Al-‎Wazir ['Abu Jihad'], Salah Khalaf ['Abu Iyad'], and Dalal Mughrabi. It is Karim ‎Younes, Mahmoud Bakr Hijazi, and Fatima Barnawi. It is the Martyrs, the ‎prisoners, the wounded, the deported, and the self-sacrificing fighters."‎

[Official Fatah Facebook page, Jan. 6, 2021]‎
Among the many terror attacks he planned, former PA Chairman Yasser Arafat directed ‎the PA's 5-year terror campaign – the second Intifada – in which more than thousand ‎Israelis were murdered. Abu Jihad orchestrated attacks in which at least 125 Israelis ‎were murdered, including the Coastal Road massacre led by terrorist Dalal Mughrabi ‎who, together with others, murdered 37 Israeli civilians, among them 12 children. Abu ‎Iyad headed the terror organization Black September and planned the attack on the ‎Israeli athletes at the Munich Olympics in 1972 during which 11 Israelis were ‎murdered. Karim Younes murdered one Israeli, Mahmoud Bakr Hijazi tried to blow up ‎the Nehusha Water Institute in central Israel, while Fatima Barnawi placed a bomb in a ‎movie theater in Jerusalem that fortunately failed to explode.‎
As PMW has documented, the PA and Fatah continuously laud their history of terror ‎and glorifies mass murderers. Any way they can, PA and Fatah tell Palestinians that ‎their focus remains "the armed struggle" – i.e., violence and terror against Israel. ‎
The terms "peaceful uprising/resistance," and "popular uprising/resistance" are used by PA leaders at times to refer to peaceful protest and at times to refer to deadly terror attacks and terror waves. For example, ‎Mahmoud Abbas defined as "peaceful popular" the murderous terror during the 2015-2016 ‎terror wave ("The Knife Intifada"), in which 40 people were killed (36 Israelis, 1 Palestinian, 2 Americans and 1 Eritrean) and hundreds wounded in stabbings, shootings, and car ramming attacks. Abbas said: "We want peaceful popular uprising, and that's what this is." https://palwatch.org/page/9276
Abu Habseh's statement above is a paraphrase of a statement attributed to arch-terrorist. ‎Fatah has posted the quote on its Facebook page:‎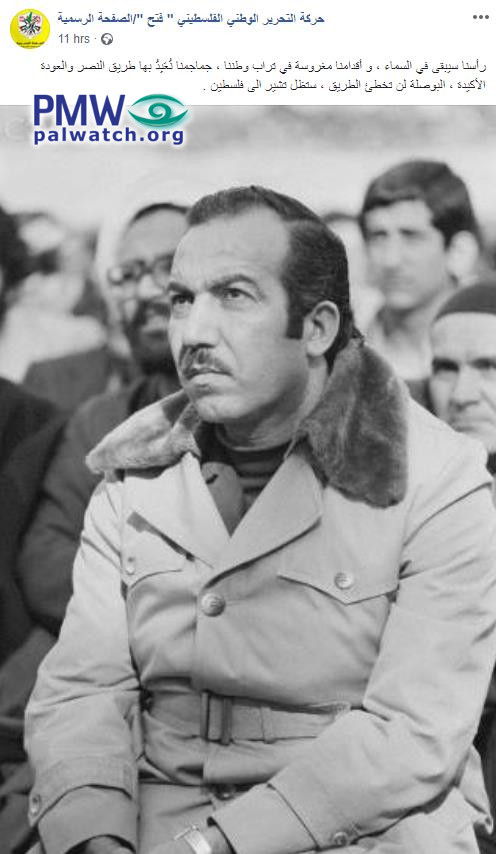 ‎"Our heads will remain high, and our feet planted in the soil of our homeland.
With our skulls we will pave the path to certain victory and return.
The compass will never deviate from the path and will continue to point towards ‎Palestine."‎

[Official Fata Facebook page, Feb. 20, 2019]‎
Muhammad Abu Habseh is the father of terrorist murderer Anan Abu Habseh (20) ‎who together with Issa Yassin Assaf (21) carried out a stabbing attack at the Jaffa Gate ‎in the Old City of Jerusalem on Dec. 23, 2015. They murdered 1 Israeli and wounded ‎another in the attack. Israeli police shot and killed the two terrorists, and accidentally ‎shot and killed another Israeli who was trying to stop the terrorists.‎
Yasser Arafat – Founder of Fatah and former chairman of the PLO and PA. During the 1960s, 70s and 80s Arafat was behind numerous terror attacks against Israelis. Although he received the Nobel Peace Prize in 1994 together with then Israeli Prime Minister Yitzhak Rabin and then Israeli Minister of Foreign Affairs Shimon Peres "for their efforts to create peace in the Middle East" after signing the Oslo Accords peace agreement, Arafat launched a 5-year terror campaign - the second Intifada (2000-2005) – in which more than 1,000 Israelis were murdered. Arafat died of an illness in 2004.
Abu Jihad (Khalil Al-Wazir) - was a founder of Fatah and deputy to Yasser Arafat. He headed the PLO terror organization's military wing and also planned many deadly Fatah terror attacks in the 1960's - 1980's. These attacks, in which a total of 125 Israelis were murdered, included the most lethal in Israeli history - the hijacking of a bus and murder of 37 civilians, 12 of them children.
Abu Iyad (Salah Khalaf) - PLO Chairman Yasser Arafat's deputy, one of the founders of Fatah, and head of the terror organization Black September, a secret branch of Fatah. Attacks he planned include the murder of 11 Israeli athletes at the Munich Olympics (Sept. 5, 1972) and the murder of two American diplomats in Sudan (March 1, 1973). It is commonly assumed that his assassin, a former Fatah bodyguard, was sent by the Abu Nidal Organization, a rival Palestinian faction.
Dalal Mughrabi – female Palestinian terrorist who led the most lethal terror attack in Israel's history, known as the Coastal Road massacre, in 1978, when she and other Fatah terrorists hijacked a bus on Israel's Coastal Highway, murdering 37 civilians, 12 of them children, and wounding over 70.
Karim Younes - Israeli Arab serving a 40-year sentence for kidnapping and murdering Israeli soldier Avraham Bromberg in 1980 together with his cousin Maher Younes. Younes was originally sentenced to life in prison, but Israeli President Shimon Peres reduced his sentence in 2012. In May 2017 Younes was appointed by PA Chairman Mahmoud Abbas to the Fatah Central Committee.
Mahmoud Bakr Hijazi - Palestinian terrorist who attempted to blow up the Nehusha Water Institute in central Israel on Jan. 7, 1965. Hijazi was serving 30 years in prison, but was released on April 17, 1971, to Lebanon in an exchange deal with Fatah for Shmuel Rozenvasser, an Israeli citizen who was abducted by Fatah terrorists in 1970. Palestinian Prisoner's Day is celebrated annually on the anniversary of his release.
Fatima Barnawi - Palestinian female terrorist who placed a bomb in a movie theater in Jerusalem in 1967. The bomb failed to explode. She was sentenced to life in prison but was released in 1977 after serving 10 years. In 2015, PA Chairman Mahmoud Abbas honored Barnawi with the Military Star of Honor.
‎"The deported" refers to terrorists who took hostages and sieged the Church of ‎the Nativity - In 2002, during the PA terror campaign (the second Intifada, 2000-2005), ‎Israel launched Operation Defensive Shield in the West Bank to prevent future terror ‎attacks against Israelis. During the operation, 39 terrorists fled to the Church of the ‎Nativity in Bethlehem, using dozens of hostages and the religious site as shields. After ‎‎39 days of siege by the Israeli army, the terrorists released the hostages and were ‎deported to Gaza and Cyprus. During the siege, the church was damaged in ‎exchanges of fire between the terrorists and the Israeli army. One clergyman was ‎murdered by the terrorists and 8 terrorists were killed by the Israeli army.‎