PA youth name street after terrorist Dalal Mughrabi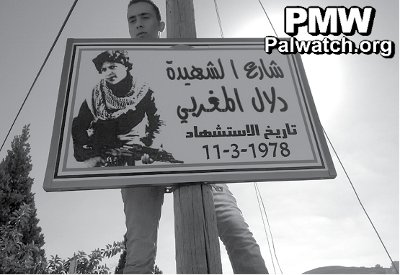 Headline
: "Youth initiative to name one of the city's streets after the
Shahida
(Martyr) Dalal Mughrabi"
     "A group of youth in Nablus, with the participation of the Shabiba (the Fatah youth movement) high-school councils in the district, named one of the main streets in the city after the
Shahida
(Martyr) Dalal Mughrabi.
The person responsible for the project, Hasan Al-Faqih, said that the initiative is a challenge to the interventions by the Israeli government, aimed at erasing the memory of the
Shahids
(Martyrs), such as the
Shahida
(Martyr) Dalal Mughrabi, from the consciousness of future generations, claiming that this [glorifying a terrorist] represents incitement against the occupation...
Rashida Mughrabi congratulated the group which initiated the opening of the street named after her sister, the
Shahida
(Martyr) Dalal. She demanded that special efforts be made to inaugurate the
Shahida
Dalal Mughrabi square in the city of Ramallah, whose inauguration had been prevented by the occupation."
Note: Dalal Mughrabi led the most lethal terror attack in Israel's history in 1978, when she and other terrorists hijacked a bus and killed 37 civilians, 12 of them children.