PA misrepresents terrorist stabber as innocent school boy attacked by Israelis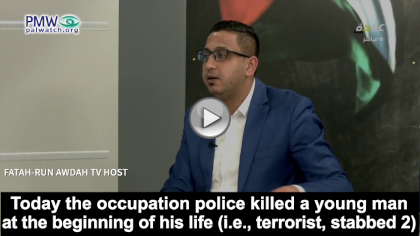 WARNING: GRAPHIC CONTENT
– footage shows one of the wounded Israelis with the knife still in his back,
moments after the attack
This week, a 17-year-old Arab teenager stabbed and wounded two Israelis. After the attack, one of the victims still had the knife sticking out of his back. The terrorist was shot and killed by an Israeli border patrol officer at the scene.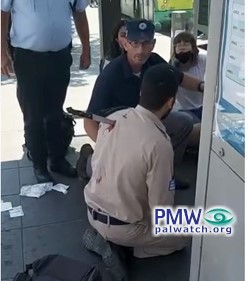 However, the PA and Fatah portray terrorist stabber Zuhdi Al-Tawil differently. According to their false narrative, the stabber was an innocent school boy, murdered in cold blood by Israel.
The PA completely inverted the events, declaring that terrorist Zuhdi Al-Tawil was the victim of an Israeli attack:
"Zuhdi Al-Tawil, a 17-year-old youth… was shot by the occupation forces and died as a Martyr yesterday [May 24, 2021,] in the French Hill area of occupied Jerusalem, after a stabbing operation by extremist Israelis."

[Official PA daily Al-Hayat Al-Jadida, May 25, 2021]
Referring to the image below, the official PA daily continued its portrayal of the terrorist as if he was an innocent young man, emphasizing that he was a young student who was unrightfully killed – "with his schoolbag next to him":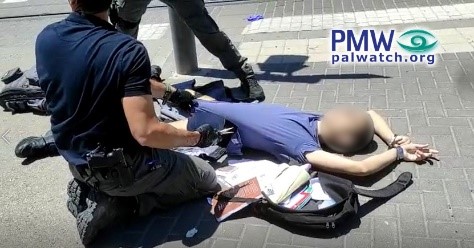 [Website of Al-Jazeera Mubasher, May 24, 2021]
"Local sources said that the Martyr is an outstanding high school student in the sciences track… An image was published on social media of the Martyr on the ground handcuffed with his schoolbag next to him."

[Official PA daily Al-Hayat Al-Jadida, May 25, 2021]
Fatah likewise claimed that Israel invented the story of the boy's stabbing attack "as a pretext" to shoot "a young man". Fatah repeated the Palestinian claim that all reported stabbing attacks against Israelis are fake and made up as a "pretext" Israel "uses every time" to have an excuse to kill Palestinians:
WARNING: GRAPHIC CONTENT – Disproving the Fatah TV host's lie, footage shows one of the wounded Israelis with the knife still in his back, moments after the attack
Fatah-run Awdah TV host: "Today the occupation police killed a young man at the beginning of his life (i.e., terrorist, stabbed 2) on the pretext of carrying out a stabbing attack – which is a pretext that it (i.e., Israel) uses every time, while it is lenient with the settlers as they riot against the Palestinians, against our people."

[Facebook page of the Fatah Commission of Information and Culture, May 24, 2021]
However, a Palestinian teenager attempting to murder Israelis should not be unexpected, as this is exactly what the PA/Fatah tell Palestinian youth they expect of them. As Palestinian Media Watch has exposed numerous times, it is the PA and Fatah that have taught Palestinian youth that achieving martyrdom-death while "defending" the Al-Aqsa Mosque and Jerusalem from danger of "Judaization" is "the path to excellence and greatness" – and preferable to their studies.
Another example of the PA presenting Palestinian terror attacks as Israeli "executions" of innocents happened earlier this month. Terrorist Islam Zahida attacked Israeli soldiers with a gun, knife, and pipe bomb in Hebron on May 18, 2021. The pipe bomb blew up in Zahida's hand as he tried to throw it at the soldiers, who shot and killed him in self-defense. Reporting on the attack, the PA claimed Zahida had been "executed in cold blood by Israel":
Official PA TV host: "In Hebron young Islam Zahida (i.e., terrorist, attacked Israeli soldiers), 31, from Hebron, became a Martyr after occupation soldiers executed him in cold blood near the Al-Shuhada Street checkpoint in the southern part of the city."

[Official PA TV, May 18, 2021]
The following is a longer excerpt of the fictitious account of the stabbing attack in the official PA daily:
Headline: "Young Zuhdi Al-Tawil died as a Martyr next to French Hill, the occupation attacks young people in Sheikh Jarrah"

"Zuhdi Al-Tawil (i.e., terrorist, stabbed 2), a 17-year-old youth… was shot by the occupation forces and died as a Martyr yesterday [May 24, 2021,] in the French Hill area of occupied Jerusalem, after a stabbing operation by extremist Israelis (sic., Al-Tawil stabbed 2 Israelis before being shot)…
The occupation police turned the area into a military base, after it was closed and rescue teams were deployed, without treatment being given to the injured young man. The police handcuffed him despite his severe injury, and his blood flowed into the ground.
Local sources said that the Martyr is an outstanding high school student in the sciences track…
An image was published on social media of the Martyr on the ground handcuffed with his schoolbag next to him."

[Official PA daily Al-Hayat Al-Jadida, May 25, 2021]