Jerusalem Arab activist's role model is terrorist murderer of 37
Activist's phone is decorated with an image of terrorist Dalal Mughrabi who led the murder of 37, 12 of them children

Fatah: "May you live as a rebel defending our Jerusalem, like your role model Dalal Mughrabi."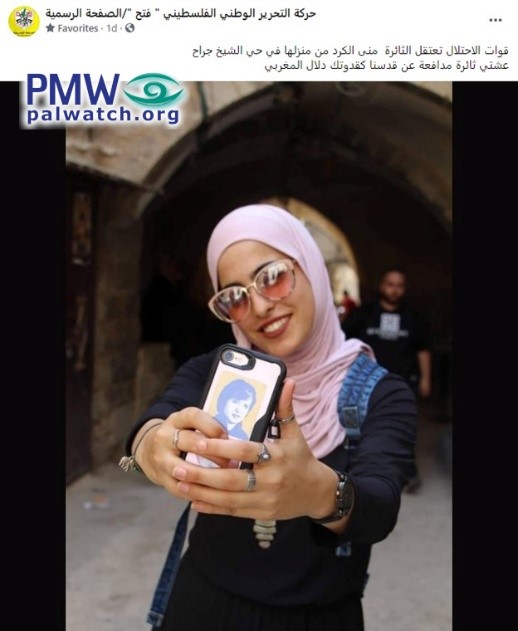 Abbas' Fatah party promotes a terrorist who led the murder of 37, 12 of them children, as a "role model" for young adults.
Fatah highlighted a picture of "rebel Muna Al-Kurd" holding her cell phone adorned with an image of Dalal Mughrabi, a terrorist murderer who led the most lethal terror attack in Israel's history, known as the Coastal Road massacre, in 1978. She and other Fatah terrorists hijacked a bus on Israel's Coastal Highway and murdered 37 of the civilian passengers, 12 of them children, while wounding over 70.
Fatah wished Al-Kurd a life in "defense" of Jerusalem "like your role model Dalal Mughrabi":
Posted text: "The occupation forces arrested rebel Muna Al-Kurd at her home in the Sheikh Jarrah neighborhood [of Jerusalem].
May you live as a rebel defending our Jerusalem, like your role model Dalal Mughrabi."

[Official Fatah Facebook page, June 6, 2021]
Al-Kurd is an Arab activist and resident of the Sheikh Jarrah neighborhood, which since mid-April has been the center of Arab protests against the eviction of Palestinian families living illegally in properties owned by Jews (see further details below).
For decades, the PA and Fatah have promoted murderer Mughrabi as a role model especially to youth, as exposed by Palestinian Media Watch. Be it by naming schools, streets, sports tournaments, and summer camps after her, celebrating her birthday, or glorifying her in school books, the PA has brainwashed Palestinians to see this terrorist murderer as the epitome of Palestinian pride and achievement.
As the cover adorning Al-Kurd's cell phone clearly shows, the PA's brainwashing has succeeded in turning a child murderer into a Palestinian role model.
The Sheikh Jarrah protests – Israeli courts have ruled that four Palestinian families living in the Sheikh Jarrah neighborhood of Jerusalem are to be evicted because they are living illegally in properties owned by Jews who were expelled in the 1948 Israeli War of Independence. The Palestinian residents were offered to stay if they would pay rent, but they refused and instead appealed to the Israeli Supreme Court. In April 2021 the planned eviction led to clashes between Palestinian residents and Israeli police, which continued into May and served as one of the pretexts for further violent rioting during the Fatah/Hamas Riot and Rocket War 2021. A hearing scheduled by the Supreme Court for May 10, 2021, was postponed following intensified Palestinian riots and unrest both in Sheikh Jarrah and in East Jerusalem in general.