Saddam Hussein among Fatah's role models for kids - What did you learn in summer camp today? #2
"We do not forget to remind our children of those who brought us glory" – text on images of Arafat, Hamas founder Ahmed Yassin, and ex-Iraqi dictator Saddam Hussein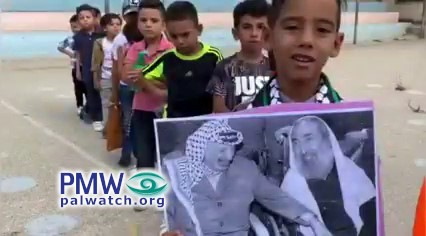 In a Fatah summer camp, Palestinian children were taught that arch-terrorist Abu Jihad, Hamas founder Ahmed Yassin, and ex-Iraqi dictator Saddam Hussein are role models.
In a video posted by Fatah showing part of the activities at the camp, kids are seen holding pictures of former Palestinian leader Yasser Arafat standing with former Iraqi President and dictator Saddam Hussein, while another child is holding a picture of Arafat and Hamas founder Ahmed Yassin. As these images are shown the following text appears on the edited video:
"We do not forget to remind our children of those who brought us glory"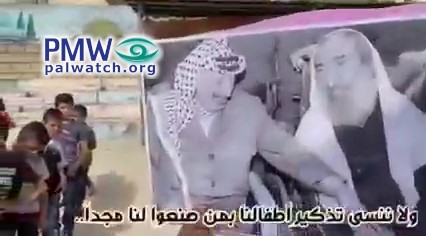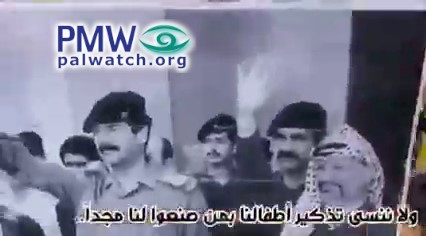 [Facebook page of the Fatah Youth Institution for Young Boys and Girls, July 10, 2021]
The "glory" that Ahmad Yassin founder of Hamas brought to Palestinians is the deaths of hundreds of Israelis from Hamas terror. The "glory" brought to Palestinians by Saddam Hussein are the dozens of missiles fired at Tel Aviv and other Israeli cities during the Gulf War.
Another child at the camp is holding up a collage of three pictures of Yasser Arafat. In the picture on the left, Arafat is seen standing with Khalil Al-Wazir "Abu Jihad," a terrorist responsible for the murder of at least 125.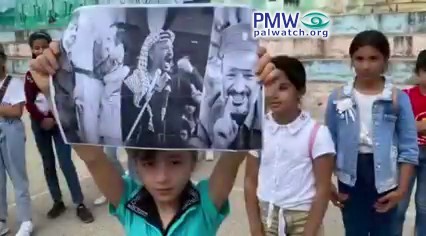 Significantly, and sadly, Fatah's video from the camp did not show any kids holding photos of any Palestinians who did something positive and productive with their lives.
Other kids at the camp, which was held in Aqaba, a village in the Tubas district, held photos of "Martyrs," among them a young man who was killed during violent confrontations with Israeli police, and a hunger striking prisoner who has been released.
Last week, Palestinian Media Watch reported on another summer camp that taught Palestinian children not to recognize Israel in any borders: