Are Palestinian mothers genuinely joyous over the deaths of their ‎children as "Martyrs" or are they just keeping up appearances?‎
Itamar Marcus and Nan Jacques Zilberdik
|
Mother: "My [Martyr] son had nothing called a funeral, rather it was a wedding"

Mother: "Today is [my Martyr son] Omar's wedding day. There are no tears and no sorrow... we are all happy"

Father brags about bringing 4-year-old son to "dangerous" confrontations, tells of son's wish to die and "go to Paradise"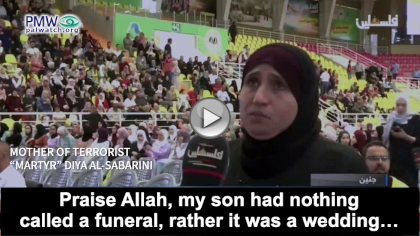 Are Palestinian mothers (and fathers too) genuinely happy for their children who died as "Martyrs" and had "weddings" to the 72 virgins of Paradise instead of funerals? Or are they just keeping up appearances?
There's no way of knowing, but one thing is certain: Expressing joy over a Palestinian child dying in terror attacks and violent confrontations with Israel is what the PA expects and demands of its people. One of the ways the PA promotes this is by broadcasting the parents' statements repeatedly in official PA media. Palestinian Media Watch has been exposing this since the beginning of the PA terror campaign – the second Intifada - in October 2000. PMW's first report on the PA promoting child Martyrdom entitled "Wajdi, a 14-year-old: "When I become a Shahid [Martyr], give out cake," published already in November 2000.
This PA practice of promoting child Martyrdom and pressuring parents to support it continues until today. The following are a few recent examples of statements of joy by mothers whose sons died "as Martyrs" – statements that the official PA TV chose to broadcast to the Palestinian public. Note that the parents' references to the Martyrs' weddings are based on the Islamic belief that a Martyr for Allah marries 72 "dark-eyed", i.e., the Virgins in Paradise.
Mother of terrorist "Martyr":
"My son had nothing called a funeral, rather it was a wedding"
Mother of terrorist "Martyr" Diya Al-Sabarini: "Praise Allah, my son had nothing called a funeral, rather it was a wedding… I didn't feel that it was a funeral, I felt that it was a wedding. I told them: "Wedding."

[Official PA TV News, Aug. 28, 2021]
Diya Al-Sabarini – Palestinian terrorist who shot at Israeli security forces in Jenin on Aug. 3, 2021 and was shot and killed by them.
"It's [his] wedding day… There is no sorrow"
says mother dead 13-year-old "Martyr" son's funeral
Mother of dead 13-year-old "Martyr": "Today is [my son] Omar's wedding day. There are no tears and no sorrow. Omar is leaving, and we are all happy because he is happily and calmly going to the Gardens of Pleasure."

[Official PA TV News, Aug. 28, 2021]
Omar was allegedly killed by Israeli fire while participating in violent riots at the Gaza Strip border with Israel.
When a Palestinian protester was killed while participating in violent riots against Israeli security forces, the official PA daily stressed his grandfather's reaction:
"[The father] stood upright when he received the consolers over the death as a Martyr of his son Imad, and he prostrated himself in thanks to Allah the moment he heard the news of his death as a Martyr."

[Official PA daily Al-Hayat Al-Jadida, Aug. 8, 2021]
The mother of a dead PA security forces member stated she was "proud to be the mother of a Martyr." [Official PA TV, Palestine This Morning, Aug. 29, 2021]
PMW has shown that the PA's brainwashing of Palestinians to seek Martyrdom as an ideal. Therefore it is not surprising (although chilling!) to hear a Palestinian father take pride in his 4-year-old son's wish "to go to Paradise":
Father brings son to see "popular uprising," exposing him to "danger," brags about 4-year-old's hopes of dying
Official PA TV reporter: "It is a fire burning through rubber tires, which the rubber unit in the town of Beita invented … (Speaking to father) "I see that you came with your children.. You are not afraid given this dangerous situation?"

…

Father: "This is popular resistance. There is no avoiding being exposed to danger. My son Yusuf here told me: "I want to go up with you to the mountain so that I'll go to Paradise," and he is four-and-a-half years old…"

Reporter: "What are you instilling in your children?"

Father: "Love of the homeland, defending it and its lands, our holy lands."

[Official PA TV News, June 20, 2021]
The following is a longer excerpt of one of the statements above:
Mother of Adham Yasser Aliwi: "I am the mother of Martyr Adham Yasser Tawfiq Alawi (i.e., PA Security Forces member who opened fire on Israeli forces; see note below), a first lieutenant in the [PA] military intelligence who died as a Martyr on the heroic land of Jenin. I am proud to be the mother of a Martyr. I am proud that they are mentioning the families of the Martyrs here and they have glorified the Martyrs."

[Official PA TV, Palestine This Morning, Aug. 29, 2021]
Jamil Al-Amouri, Wisam Abu Zaid, Adham Yasser Aliwi, and Tayseer Mahmoud Ayaseh – Israeli undercover forces attempted to arrest wanted Islamic Jihad terrorists Jamil Al-Amouri and Wisam Abu Zaid while they were hiding in Jenin next to a PA military intelligence building on June 10, 2021, in order to prevent the two from committing imminent shooting attacks after they had committed attacks in the previous months. The two attempted to flee, at which point the Israeli forces opened fire, killing Al-Amouri and wounding and arresting Abu Zaid. Because the Israeli forces were operating undercover, the PA Security Forces had not been notified in advance in order not to blow their cover, and as the Israeli forces were preparing to leave the area, PA military intelligence officers Adham Yasser Aliwi and Tayseer Mahmoud Ayaseh opened fire on them, possibly unaware they were Israeli security forces. The forces returned fire, killing Aliwi and Ayaseh. According to reports, video from the event shows someone at the scene shouting out to identify the Israeli undercover forces, but Aliwi and Ayaseh apparently continued to fire despite the shouts.