The new Palestinian symbol: The spoon
PA TV brags: Israeli "security system can be brought down by a spoon," lauds 6 escaped terrorists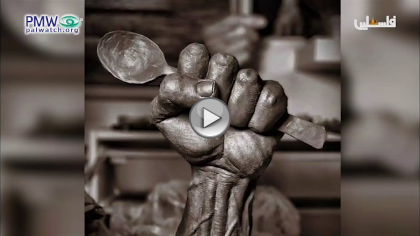 The PA is still bragging of the escape of the 6 terrorist prisoners in September, despite their recapture. The terrorists succeeded escaping by widening the hole of the shower drainpipe in the floor of their cell with a spoon, and then fleeing through the underground piping system.
The PA has turned the spoon into a symbol. One example is this trailer for the weekly PA TV program "Giants of Endurance" – a program made exclusively for the benefit of the terrorist prisoners who enjoy access to PA TV in the Israeli prisons. The trailer shows a sculpture of a fist clutching a spoon and a spoon decorated with a keffiyeh, the Arab headscarf:
Official PA TV host: "Our map is one and will not be divided, and our heroes have taught you [Israelis] a lesson that your gate of barbed wire won't close on freedom, and that your security system can be brought down by a spoon wrapped in a keffiyeh of Palestinian heroism."

[Official PA TV, Sept. 25, 28 (twice), Oct. 1, 2, 4, 5 (twice), 6 (twice), 8, 2021]
Palestinian Media Watch has exposed that this PA TV program services the terrorist prisoners, directly addressing them with greetings and updates from their relatives outside prison. Among the updates for the prisoners are the growth and development of children born of sperm smuggled out of prison, and praise for terrorist prisoners who have completed university studies in prison.
Cartoons have also used the image of the spoon to mock the Israeli security system and brag about the escape: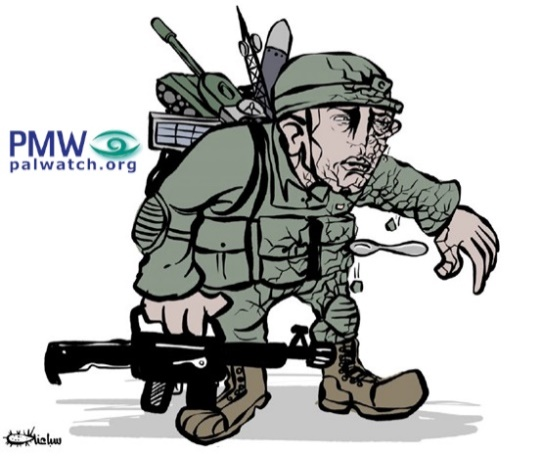 A spoon strikes and shatters an Israeli soldier who is holding an assault rifle and who has tanks and rockets in his backpack. [Official PA daily Al-Hayat Al-Jadida, Sept. 20, 2021]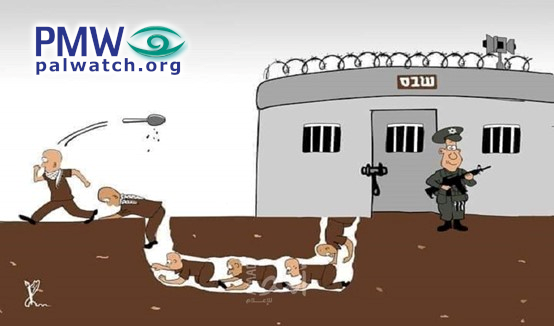 Headline: "Our land recognizes us, we love it and it protects us"

[Website of the Fatah Commission of Information and Culture, Sept. 9, 2021]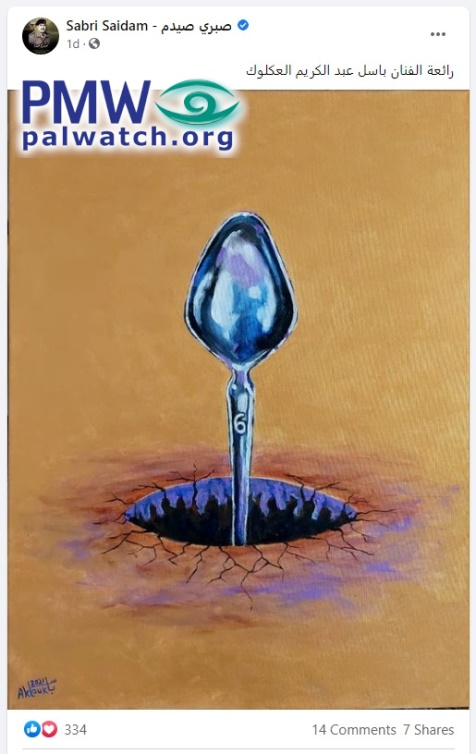 A drawing of a spoon sticking out of a hole in the ground with a "6" on the handle of the spoon indicating the six terrorist prisoners who escaped.
Posted text: "The incredible work of artist Bassel Abd Al-Karim Al-Aklouk"

[Facebook page of Fatah Central Committee Deputy Secretary Sabri Saidam, Sept. 16, 2021]
[Official PA daily Al-Hayat Al-Jadida, Sept. 24, 2021]
Palestinian Media Watch has documented that Palestinian children are being taught to honor the escaped terrorists, including this child, who also appears with a spoon: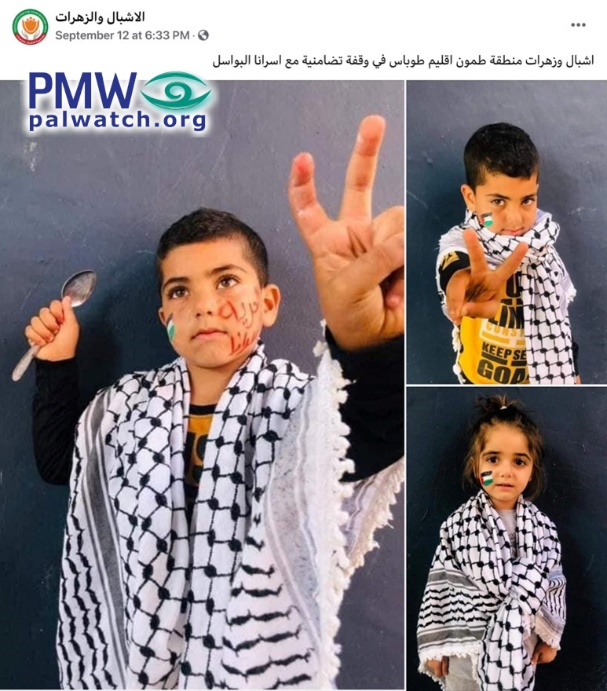 Text on cheek: "Freedom to our prisoners"

Posted text: "The Lion Cubs and Flowers [Institution] (i.e., the Fatah Youth Institution for Young Boys and Girls) – Tamoun sub-branch, Tubas branch, in a rally of solidarity with our heroic prisoners."

[Facebook page of the Fatah Youth Institution for Young Boys and Girls, Sept. 12, 2021]
"Our heroes" and the "spoon" refers to the 2021 Gilboa Prison escape – 6 Palestinian terrorist prisoners escaped from Israel's Gilboa Prison on Sept. 6, 2021, by widening the hole of the shower drainpipe in the floor of their cell. One terrorist is from Fatah - Zakariya Zubeidi, and the other five are from Islamic Jihad - Ayham Kamamji, Muhammad Ardah, Mahmoud Ardah, Yaqub Qaderi, and Munadil Nafiyat. Four of the terrorists were recaptured after five days: Zubeidi, Ardah, Ardah, and Qaderi. Kamamji and Nafiyat were arrested in Jenin on Sept. 18, 2021 along with two accomplices. Zubeidi was head of the Al-Aqsa Martyrs' Brigades (Fatah's military wing) in the Jenin area during the PA terror campaign (the second Intifada, 2000-2005), when he oversaw numerous lethal attacks, and he also carried out shooting attacks in 2018-2019. Kamamji participated in the murder of 18-year-old Eliyahu Asheri on June 25, 2006, and planned to blow up a bus using an exploding car. Muhammad Ardah participated in initiating and executing a suicide bombing on bus no. 823 on Nov. 29, 2001, in which 3 people were murdered and many others were wounded. Mahmoud Ardah was involved in numerous attacks; the website of Islamic Jihad's military wing defined him as the "commander" of the prison escape. Qaderi committed a shooting attack on Sept. 18, 2002 with an accomplice in which Israeli Yosef Ajami was murdered and a foreign worker was wounded. Nafiyat was being held in administrative detention.
The terrorist prisoners featured in images in the background of the trailer for Giants of Endurance are:
Ibrahim Agbaria, Yahia Agbaria, Muhammad Agbaria, and Muhammad Jabarin – Four Israeli Arab terrorists and members of the Islamic Jihad terror organization who entered an army training camp and used knives, axes, and a pitchfork to murder three sleeping soldiers Guy Friedman, Yaakov Dubinsky, and Yuri Ferda on Feb. 14, 1992. They are each serving 3 life sentences. The attack, near Kibbutz Gilad in northern Israel, is known as "the night of the pitchforks."
Israeli Arab terrorist and member of the Popular Front for the Liberation of Palestine (PFLP) terror organization who led the terror cell that kidnapped and murdered Israeli soldier Moshe Tamam in August 1984. The cell was apprehended in 1986 and its members were sentenced to life, but Israeli President Shimon Peres reduced their sentences in 2012 to terms of 35 to 45 years.
Muhammad Adel Daoud - Palestinian terrorist who murdered Ofra Moses, who was pregnant, and her 5-year-old son, Tal Moses, by throwing a Molotov cocktail at their car on April 11, 1987. Daoud is serving a life sentence.
Jum'a Adam, Ahmad Takrouri, and Mahmoud Abu Kharabish - Palestinian terrorists who threw a Molotov cocktail at an Israeli bus in Jericho in 1988, murdering a mother and her 3 children, as well as an Israeli soldier who tried to rescue them. All 3 terrorists were sentenced to life sentences. Takrouri was released in the Shalit prisoner exchange deal in 2011. Adam and Kharabish were scheduled to be released in 2014 in an Israeli gesture as part of peace talks, but the release was cancelled.
Samir Abu Nimeh – Palestinian terrorist involved in an attack on Oct. 15, 1986, in which grenades were thrown at Israeli army soldiers and their families immediately after an induction ceremony at the Western Wall, murdering Dov Porat, the father of one of the recruits, and wounding 69 others. The PLO claimed responsibility for the attack.
The following is the article that accompanied the picture of the mural with the hand holding the spoon:
Headline: "[Town of] Arraba commemorated 'the freedom tunnel' with a mural decorating one of its squares"

"Arraba – the history and the culture, Arraba – from whose womb two of the heroes of the freedom tunnel operation came (refers to 6 terrorist prisoners who escaped from Gilboa Prison; see note below -Ed.); it is Arraba of art and rootedness, and it is the one whose young people documented and commemorated the freedom tunnel with a creative act, far from the occupation's violence, wars, and prison cells. A number of people of initiative from among the people of Arraba found an opportunity in the freedom tunnel operation to emphasize many human values and also many lessons that were demonstrated by the operation's heroes in their dangerous search for freedom and their mighty victory over all the security mechanisms in the occupation's prisons and in the occupation state."

[Official PA daily Al-Hayat Al-Jadida, Sept. 24, 2021]