Go to prison and pick a career: Convicted murderer of 5 supervises university studies of terrorist in Israeli prison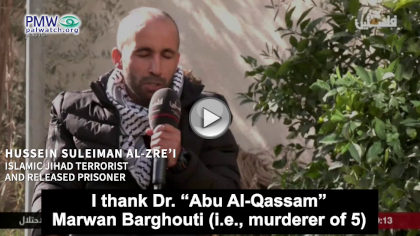 Prison turned career path: "I started imprisonment having 10 [years of education]. When I entered prison I completed [high school] matriculation and many courses. [Then] I went straight to university"

Father proud of terrorist son's university studies in prison: "Praise Allah, [my son] is currently completing a master's degree… In prison there are those who have completed a doctorate. It is a school, it is a university"
For imprisoned Palestinian terrorists, their prison sentence has become their path to a career. As Palestinian Media Watch has reported, terrorist prisoners enroll in and study at Palestinian universities while serving time for attacking and even murdering Israelis.
This happens despite Israel having cancelled their entitlement to higher education in 2011. This prohibition was made because of the appalling conditions Hamas imposed on kidnapped Israeli soldier Gilad Shalit who suffered in isolation, compared to the numerous benefits including education enjoyed by Palestinian terrorist prisoners.
The following statements by released terrorists confirm what PMW has previously reported: Advanced university studies are taking place within the prisons and Marwan Barghouti – convicted of orchestrating attacks in which 5 Israelis were murdered - teaches an MA program in "Israel Studies" to fellow inmates:
Islamic Jihad terrorist and released prisoner Hussein Suleiman Al-Zre'i: "I thank Dr. 'Abu Al-Qassam' Marwan Barghouti (i.e., terrorist who planned murder of 5) who supervised [my] master's degree in regional studies and regional affairs…"

Released prisoner Muhammad Al-Najjar: "I started imprisonment having approximately 10 [years of education]. When I entered prison I completed [high school] matriculation, Allah be praised, and I completed many courses. After matriculation I went straight to university. I studied at Al-Aqsa University and I studied at Al-Quds Open University. One of the most important courses was a course in journalism and media. Allah be praised, I completed it with honors."

[Official PA TV, I Call You, Dec. 22, 2021]
Recently Birzeit University named a basketball championship after terrorist Marwan Barghouti – another indication of how popular Barghouti is in the PA and of his prestige in Palestinian academia.
Parents of terrorists are also pleased with the arrangement, possibly because the PA and the universities are paying for their children's studies:
Munir Zgheir, father of terrorist Ashraf Zgheir: "I say to the entire world: Our guys in prison, our prisoners, including my sons, are the best people in the land. They are a school for virtues, a school for giving, a school for altruism… [My son] completed a bachelor's degree in political science and economics from Open University [of Israel] with honors (i.e., before 2011 –Ed.) … Praise Allah, he is currently completing a master's degree. May Allah help him and his comrades complete their studies… In prison there are those who have completed a doctorate. It is a school, it is a university… We are speaking about heroes of the highest level."

[Official PA TV, Jerusalem Prisoners, Dec. 27, 2021]
PMW has reported in detail on the mechanism for the studies as described by the Al-Quds Open University newspaper:
The PLO Commission of Prisoners' Affairs pays tuition
Lawyers bring in study materials
The university appoints terrorist prisoners with a master's or a doctoral degree to oversee the terrorist students, give tests, and grade them
Lawyers bring out grades to be recorded at the university
[The Al-Quds Open University Message, December 2016]
Hussein Suleiman Al-Zre'i – Palestinian terrorist and member of the Islamic Jihad terror organization who committed shooting and mortar attacks against Israeli towns in Gush Katif, inside the Gaza Strip. Al-Zre'i was arrested on Dec. 20, 2002, and sentenced to 19 years; he was released in December 2021.
Marwan Barghouti – Palestinian terrorist and member of the Palestinian Authority parliament who is serving 5 life sentences for orchestrating three shooting attacks in which 5 people were murdered: one attack on the Jerusalem-Maale Adumim road (June 12, 2001) in which Greek Orthodox monk Tsibouktsakis Germanus was murdered by terrorists Ismail Radaida and Yasser Ah'Rabai, another attack at a gas station in Givat Zeev near Jerusalem (Jan. 15, 2002) in which Yoela Hen was murdered by terrorists led by Mohammed Matla, and one shooting and stabbing attack at the Seafood Market restaurant in Tel Aviv (March 5, 2002) in which Eli Dahan, Yosef Habi, and Police Officer Sergeant-Major Salim Barakat, were murdered by terrorist Ibrahim Hasouna. When arrested by Israel in 2002, Barghouti headed the Tanzim (Fatah terror faction). After he was convicted and imprisoned, he was re-elected as a member of the Palestinian Authority parliament. On Dec. 4, 2016, he was elected to Fatah's Central Committee.
Muhammad Al-Najjar – released Palestinian prisoner, PMW was unable to determine the nature of his crimes.
Ashraf Zgheir – Palestinian terrorist and Hamas member who drove suicide bomber Iyad Raddad to Tel Aviv's Allenby Street on Sept. 19, 2002, where Raddad boarded a bus and detonated a bomb, murdering 6 people and wounding 84 others. Zgheir used his Israeli residency status to be able to move around freely and select targets. On Oct. 11, 2002, Zgheir attempted to facilitate another bombing, driving suicide bomber Rafat Mouqadi to the Tel Aviv promenade where he instructed him to detonate a bomb at a restaurant. Israeli security guards thwarted the attack and arrested Mouqadi. Two days later, Zgheir received instructions from Hamas to carry out another bombing, but he was arrested before he could do so. Zgheir is serving 6 life sentences.